The 25 Best Memes From 'The Walking Dead'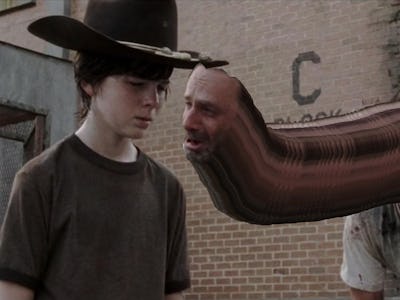 Artsfon.com
AMC's The Walking Dead wrapped up its seventh season on Sunday with a notable character death that reflected what happened in the comics, and though the show endured its lowest ratings in years due to a dour, zombie-lite season focused far too much on Negan, that won't stop us from giving the TV's most popular zombie show the lighthearted meme treatment it deserves.
Not a lot of humor happens on The Walking Dead organically. Nary a laugh can be found for long stretches of time, especially when main characters get clobbered or devoured on the regular. Take the time to enjoy these memes during the long and formidable wait for Season 8. Whether you want more walkers or not, in no particular order, here are 30 of the best "Coral" Dad Jokes and other laughably twisted memes that have come out of this seven-season endeavor that has been AMC's The Walking Dead:
Admit That You Were Thinking It, Too
Rick Gets the Most Accurate "Think(s) I do" Treatment Ever
They Raise a Good Point
Rick's Always Got "Stuff" and "Things"
Fast-forward a Couple Seasons …
How to Start a War With Rick Grimes
Maybe That's Why He and Lori Can Never Find Carl
Rick's Had a Lot of Relationship Issues Over the Years
And He Can Never Get Away From It
This Is the Greatest Mystery of All Time
The Governor Always Keeps His Eye on the Prize
Just a Typical Abraham-Eugene Conversation
We've Got Our Eye on These Memes
Eye Don't Know How I Feel About This One
Eye Can't Stop, and Neither Can Rick
The Eye and Limb Dad Jokes Keep Coming
And Then It Hit Me …
New Levels of WTF
It's Pointless, Coral
Constipated Carl, Coming to a Theater Near You
Arrrr He Loves the Sea
Get It POULTRY-geist!?
By Far, This One Is the Most Savage Coral Dad Joke of All Time
From the Great Beyond