'The Walking Dead' Season 8 Officially Announced
The zombie show will surpass the century mark.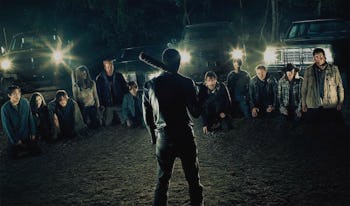 comingsoon.net
A week before the premiere of its seventh season, AMC's The Walking Dead, has been renewed for an eighth.
The news was announced on Sunday at the beginning of a two-hour long retrospective special, The Walking Dead: The Journey So Far, which acted as a reminder for those of us who've forgotten every twist, turn, and psychotic camp Rick and the gang have come across in the past six seasons. This exciting yet wholly expected news comes exactly one week before we find out which of our long-standing favorites was chosen for Negan and Lucille's late-night batting practice.
Also renewed was The Walking Dead's after-show, Talking Dead, which is currently rated as the most popular talk show on television. Talking Dead will continue alongside The Walking Dead's eighth season, which will premiere with the show's 100th episode.
So, this news begs the question: After the group comes out the other end of this Negan challenge, where will they go from there?
In the short-run: Who did Negan formally introduce Lucille to? Will Maggie (and the baby) be okay? How much pain will be doled out on Daryl over the number of Saviors he's personally taken out? Who's not going to make it to Season 8 at all?
Negan and his Saviors acted as the main antagonists for the second half of The Walking Dead's sixth season, and we can assume they'll continue to act irrationally for at least the first half of the seventh. Alongside Negan's Biblical overtones will be Ezekiel, the overseer of the Savior's refuge camp, the Kingdom, and his pet tiger.
Philip Blake (commonly known as "The Governor") acted as the primary antagonist for Season 3 and half of Season 4, so we know The Walking Dead doesn't shy away from long-standing baddies. Granted, the Governor's storyline got to be old after a while, so hopefully current showrunner Scott Gimple won't let Negan, Ezekiel, and the Saviors overstay their welcome onscreen.
Season 7 of The Walking Dead premieres Sunday, October 23 on AMC and will be followed by a special 90-minute episode of Talking Dead.