Check Out the First Photo of Black Lightning From the New CW Series
by Monica Hunter-Hart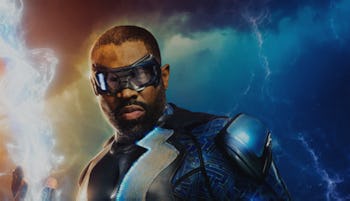 Photo via Warner Bros. Television
Black Lightning, a DC superhero able to project intense electrical energy from his body, is getting his own TV series on The CW. The show will premiere sometime in 2017 or 2018 (it's currently in production in Atlanta), but we just got our first look at the titular character in an awesome image just released tonight.
Black Lightning is the alter ego of Jefferson Pierce, a man born with the ability to use bio-electric fields within his body to expel powerful electric energy, often in the form of lightning bolts. Pierce is forced out of retirement when his daughters get caught up in dangerous activities, one in the pursuit of justice and the other in joining a local gang.
The show was originally supposed to have premiered on FOX, but the network dropped it in February because of its crowded superhero programming. Luckily The CW stepped in.
The character of Black Lightning debuted in DC comics in 1977 as one of that publisher's first black superheroes.
"I knew way too much about the world as a young boy growing up in Richmond, California," said Salim Akil, the show's executive producer, writer, and director. "I was no stranger to violence, death, hopelessness or the feeling that no one cared about what was happening in my life."
"Comics were a great way for me to escape," Akil went on. "I was about 13 when Black Lightning was created, and finally there was a Black Super Hero that gave a damn about our neighborhood and our lives. Resurrecting him at a time in our society when a sense of hope is lacking. … Black Lightning will be that hope. And in updating the suit, it will signal to a new generation that it's time to harness and release our power, and become our own Super Heroes."