Cayde-6 Drinks Amidst War in 'Destiny 2' Teaser Trailer
"It was like an ugly contest where everyone was a winner."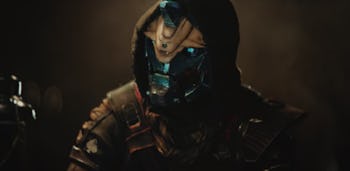 Following the release of an official promo image for *Destiny 2* last week, Bungie put out a teaser trailer today featuring everyone's favorite Exo, Cayde-6, and it shows humanity's Last City burning. That's right: The walls have been breached, and there's no safe place left in the fight against the Darkness.
Cayde's drinking a curious blue liquor that may or may not be bootleg Hypnotiq, telling the barkeep about a "super boring meeting" at his usual spot in the Tower when an explosion goes off and Cabal troopers storm into the room. "It was like an ugly contest where everyone was a winner," he says. Cayde does "a lot of shooting" before a huge, new armored enemy "destroys his favorite store."
The final punchline is that he's just talking to the Sweeping Robot and not a barkeep at all. And he's not safe in some bar recounting a past fight but instead taking a quick break as the City itself burns around him. The war's still actively going on. Of course, Commander Zavala gives him a hard time about it. The battle is on the homefront, and the Guardians are going to war. Check it out:
Destiny 2 has no confirmed release date, but a worldwide reveal trailer is coming this Thursday, March 30 at 1 p.m. Eastern.