'Ghost in the Shell' Costumes Changed for a New Retro Future
Anyone want to try a skintight jumpsuit with shoulder pads?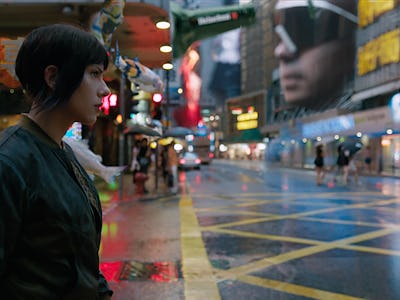 In 1995, Mamoru Oshii's cyberpunk movie Ghost in the Shell — based on the manga by Masamune Shirow — predicted a dark future overrun with technology. It's a time and place where most people's bodies come with a warranty, and while that vision of transhumanism is still years away from becoming a reality, ideas like biohacking have come to fruition. Oshii and Shirow used bodies as a theme in their stories, as conduits for the perverse invasion of technology. So it was crucial the filmmakers of the new remake understood the importance of bodies as well.
Costumers Kurt Swanson and Bart Mueller, who operate under the name Kurt & Bart, were tasked with outfitting the bodies that populate Ghost in the Shell, the blockbuster from director by Rupert Sanders. The movie, which hits theaters on March 31, stars Scarlett Johansson as Major, a cyborg commander of the counter-terrorist unit Section 9 who hunts down a saboteur. In an email to Inverse, Swanson said they worked to honor the original film's themes while communicating new ideas. Naturally, the anime was a big influence on the movie, but it wasn't because that's how adaptations usually work. Rather, it was the overwhelming shadow of the original and its impression on a generation.
"The original informed a generation of designers," Swanson explained. "We are living in a world that reflects some of that vision of the future from 20 some years ago and the next generation of designers will continue to influence cinema and be influenced by it."
The rest of Inverse's conversation with Kurt and Bart follows below.
The anime is 20 years old, the book is even older. Technology, and our vision of the future, have changed since then. How did the costumes change in accordance with that?
Mueller: Rupert Sanders had a specific vision of what the future should look like and the source material is at the heart of that. Our approach to the costume design was to incorporate and acknowledge where technology is now and where it's headed and at the same time honor that source material which really does have stamps specific to the era it was created.
This is especially true with some of the clothes and the big shoulder '80s silhouette. Even some of the Major's leanest looks, like her tactical jumpsuit, was outfitted with shoulder pads. We had fun designing the future subcultures, which became mashups of classics. Maori skinheads and future romantics wearing retro shapes in modern fabrics or clear plastic. We got really big on transparency and translucency and technology.
The shapes of the tactical gear worn by the Major and Section 9 have their roots in the anime, but we wanted to portray new concepts of ballistic gel and soft body armour. It was a random find of vintage Kendo gear that took us quilting and finishing flak vests with traditional Japanese hand sewing techniques. I think the result is a designed vision of the future that has a retro appeal.
The robo-geishas in the film look distinctly more eerie than in the anime series. What influenced that design? How much did you want to emphasize the future in their costumes over the geisha's ancient roots?
Mueller: The geisha are very eerie, and I think a lot of that is because of their machinate porcelain masks which were an amplification of traditional geisha makeup which is a mask in its own way. To have the painted face and soulless eyes blinking is really unsettling. We wanted the design to be an imagined evolution of very specific cultural tradition that has a sense of privacy that borders on secrecy.
We have been friends with a real geisha we met in Tokyo in the '90s. She was one of the last geisha trained in Tokyo and Kyoto. We had her consult with production and train the actors how to walk and move and dance.
Across the design, we wanted to honor tradition and acknowledge technology. That started with the kimonos. We took a traditional silhouette and made it sculptural but used a polyester that looked like spun glass that was developed by Reiko Sudo at Nuno Fabrics. The fabric laser cut beautifully and we were able to cut design motifs [like] neo-traditional cherry blossom and nature motifs. The under kimono was an ombre dyed silk in matching colors to the illuminated Plexi collars which had to be hand-formed to each actor's body.
Swanson: The obi belt we had woven by a 1,300-year-old obi mill in Kyoto using the traditional weaving methods done by hand. Our imagery for the obi was based on technology and circuitry and we were working with gold threads and really acidic colors. It is a painstaking method, the kind of craftsmanship there is less of. The geisha masks and bodies were manufactured by Weta Workshop in NZ who also created the interior machinery behind the masks.
How did you work with VFX to integrate effects into the costumes? What parts weren't practically made?
Swanson: Everything was practically made. While there are costume elements tweaked in VFX, there was always a practical element. I think this approach really helps the actor if there is something more than a green screen suit to react to. It gives the VFX artists something to use and only makes any visual enhancements better. [Scarlett's] thermoptic suit was a fully realized silicone suit. I think it helped Scarlett, the other actors, and ultimately VFX to see something practical and have it breathe and move during the action sequences.
Other than Ghost in the Shell anime and manga, which movies or styles influenced the look of different characters?
Mueller: The source material was always the touchstone for the design in the film. It wasn't the only reference point, we are always inspired and informed by voices in fashion and art. The process for us with Rupert was fluid and we had a strong department we were able to explore a lot of concepts quickly. Often we would head down a path and it would develop and morph and then you might have something lovely but wouldn't be sure how it fits in. That's when we sit with Rupert and look at Masamune's drawings. It was always back to the source. We wanted the design to have that resonance, that ghost.
Which costume changed the most from the source material, and why?
Swanson: All the costumes have bones from the source. There are a couple that may seem changed. Aramaki in the manga is wearing big '80s suits. Rupert asked us to develop another take. We worked with men's tailors and stripped the suit to its essentials and crossbred it with a kimono, down to waistcoats fabricated from vintage obi silk. That's a big departure from the source, but to see Beat Takeshi in costume on set was beautiful.
Ultimately, you are translating a drawing to an actual garment. Batou's coat, for example, is iconic and we wanted to keep that silhouette. We started with gray leather and whitewashed it to give it that iconic look. That coat is one of my favorite pieces in the film and [actor] Pilou [Asbæk] loved it.
Ghost in the Shell hits theaters March 28, 2017.