SpaceX Will Launch a Used Rocket This Week: When and How to Watch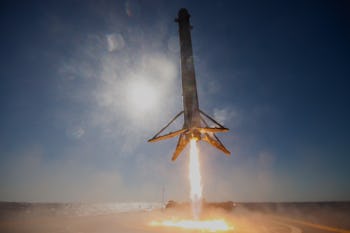 Getty Images / NASA
After completing a static fire rocket test Monday, SpaceX is planning to conduct its next launch on Thursday at 6:27 p.m. Eastern, from Launch Complex 39A at Kennedy Space Center in Florida. The mission, SES-10, will include more than the delivery of a communications satellite into the planet's orbit. If successful, the launch will be a monumental achievement in advancing reusable spaceflight architecture.
The SES-10 satellite will travel on a Falcon 9 rocket that SpaceX has already flown and landed before. In fact, it will be the booster the company brought back to Earth in April 2016 during the first ever rocket landing on a droneship.
If the launch doesn't go through, a backup launch window opens on Saturday at 6:27 p.m. Eastern. The forecast is for mostly clear skies.
How to Watch the SpaceX Launch Online
You can watch SpaceX re-launch the Falcon 9 and attempt to land it on the droneshop Of Course I Still Love You via the SpaceX webcast. We've also embedded a YouTube stream at the bottom of this post. The launch window opens at 6:27 p.m. and closes at 8:57 p.m. Sunset is at 7:38 p.m. local time, so there should be plenty of light to watch this rocket land.
Last April's mission, CRS-8, a resupply operation for the International Space Station, was a much easier feat than Thursday's launch and landing will be. The space station is located in low Earth orbit, meaning the company doesn't have to worry about expending as much fuel to send up the Falcon 9 and navigate it back down to the ground safely. Meanwhile, SES-10 is delivering a payload to GTO — a much higher altitude which is more optimal for communications instruments.
Getting back from GTO is a much bigger pain the ass, given how much less fuel you have to steer the rocket slowly back to Earth. That's the reason SpaceX does rocket landings on a droneship in the ocean, because it widens the target range for missions like this.
Why It Took So Long for SpaceX to Reuse a Rocket
Why did it take this long for SpaceX to finally reuse a rocket? Well, SES-10 was supposed to take place late last year, until the September launchpad explosion effectively halted all of the company's launches for the rest of the year. Well, better late than never.
SES-10 might also be the debut of more than just a reused rocket — the landing might feature a white new robot recently spotted on the company's droneship. There's speculation the bot play a role in helping to stabilize the rocket as it makes it way down for a vertical landing — but so far the company has not divulged any confirmation.
Relaunching Rockets is Key to Colonizing Mars
The entire vision SpaceX CEO Elon Musk is pushing through SpaceX is to reduce the costs of spaceflight to Mars and other worlds by reusing different rocket infrastructure and minimizing waste.
So far, there's a 70 percent chance of acceptable weather conditions for the mission's two-and-a-half hour launch window. If the mission has to be scrapped, an attempt will be made on Saturday, April 1, at 6:27 p.m. The company hopes to move to a more rapid launch schedule where it can fire rockets up every two or three weeks. SES-10's success could be the step forward that makes that a reality.
11:06 a.m. Eastern, March 30: This post has been updated.