SpaceX Is Making a Permanent Home for Itself in Florida's Space Coast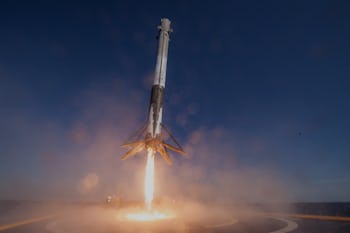 Getty Images / NASA
After a lengthy month-by-month stay, SpaceX has decided to put down roots in Florida. The private spaceflight company has leased Port Canaveral on a month-to-month basis since August 2016, but this week SpaceX committed to a five-year lease of the 53,360 square foot facility. The site already hosts SpaceX's rocket refurbishing facility, but this long-term lease indicates that the future-facing company is thinking ahead and cementing its role as the nation's leading spaceflight company.
The Canaveral Port Authority commissioners voted Wednesday to approve the lease, which will cost SpaceX $35,181 a month for the first year. The rent will increase to $50,639 a month by the fifth year of the lease, which contains two five-year renewal options. The port will reimburse SpaceX up to $10,000 a month for up to 28 months for improvements that the company needs to make to the property, reports Florida Today. This will offset the cost of the company's plan to build a new 44,000 square-foot hangar on the property to expand its rocket refurbishing operation.
"It's a unique opportunity for our port to participate in the space industry," Port Canaveral CEO John Murray tells Florida Today. "It's just great to be part of it. It's great to be in a strategic location that will be part of making history."
And the location really is strategic. It's located just a couple miles from Cape Canaveral, where SpaceX launches its Falcon 9 rockets and a couple thousand feet from the dock where it moors a drone ship, on which it lands the Falcon 9. This lease puts three of the company's crucial terrestrial operations in the same general vicinity, providing a model for the nation of what cheaper spaceflight can look like.
SpaceX made a name for itself as the private spaceflight company that aims to bring down the cost of spaceflight by reusing rockets. And after testing a previously used Falcon 9 booster in February, the company is poised to make good on that commitment this year.
By executing this new lease on the Port Canaveral facility, SpaceX demonstrates a commitment to its promise to refurbish and reuse Falcon 9 boosters. SpaceX is setting the nation's private spaceflight agenda with this move, and the coming months will show how it shapes the actions of competitors.