SpaceX Test Fires Rocket Engines in Run-Up to Historic Launch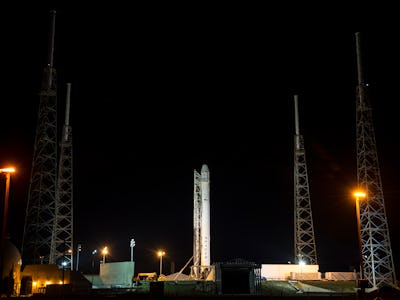 Getty Images / Handout
SpaceX successfully test-fired its Falcon 9 heavy-lift rocket engines Sunday from Kennedy Space Center as it readies a new chapter in launching commercial rockets from the historic LC-39A launch pad which saw Apollo astronauts jet off to the moon, as well as the site of where the first and last space shuttle missions left Earth. This weekend will mark the first SpaceX launch from LC-39A since 2011.
"This is the same launch pad used by the Saturn V rocket that first took people to the moon in 1969," SpaceX CEO Elon Musk wrote on Instagram. "We are honored to be allowed to use it."
SpaceX launches were halted for over four months after a rocket exploded during another launch pad test last September. After finally returning to flight last month, SpaceX looks poised to continue its string of cargo resupply missions to the International Space Station to send food, science equipment, and other supplies for the crew on board. If Saturday's mission goes through, it will mark SpaceX's tenth ISS resupply mission.
This would be SpaceX's first launch from launch pad 39A. The company has previously used Cape Canaveral Air Force Station's Launch Complex 40, but that launch pad was damaged when a Falcon 9 rocket exploded during a routine test on September 1.
An investigation found that the accident originated from a reaction in the rocket's second stage liquid oxygen fuel tank. Musk called the explosion "the most difficult and complex failure we have ever had in 14 years."
Since then, SpaceX has accelerated its preparation of pad 39A, modified its fueling procedures, and successfully launched a fleet of commercial satellites for Iridium Communications.
SpaceX plans to continue launching from Florida about every two weeks once it gets a license from the Federal Aviation Administration. The company is also currently working on repairs for Launch Complex 40, which should be completed later this year. Next year, SpaceX also hopes to test out the crewed version of its Dragon capsule as part of its commercial crew program to send NASA astronauts to the ISS.