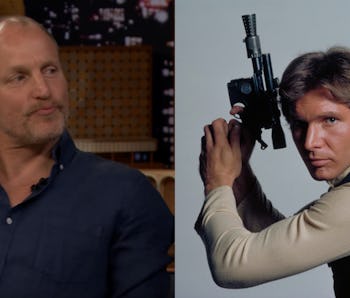 Entertainment
Woody Harrelson's Han Solo Mentor Is New to 'Star Wars' Canon
Youtube/Lucasfilm
Looks like Han Solo will be learning the best tips and tricks of criminal life from a relatively unknown mentor in the Star Wars galaxy.
Woody Harrelson, confirmed as playing Han's mentor in the Han Solo standalone Star Wars film, appeared on The Tonight Show Starring Jimmy Fallon Wednesday night to discuss his live-streamed feature film, Lost in London, but, of course, was barraged with very off-topic questions at first. Namely: questions about his involvement in Star Wars.
It was revealed in January that Harrelson would be playing Han's mentor in the film, a criminal that many Star Wars fans theorized could be Garris Shrike, a mentor to Han in A.C. Crispin's Star Wars novel The Paradise Snare. But Harrelson has dashed those dreams.
Tonight Show host, Jimmy Fallon, pushed Harrelson for Star Wars information for the first half of his interview, much to the audience's amusement.
"Can you say who you're playing?" Fallon hedged, adding that he knows Harrelson has to be pretty tight-lipped about the upcoming Star Wars film.
"I play a guy named Beckett who's kind of a criminal and a mentor to Han," Harrelson said. "That's all I can say."
So, Harrelson's character is named Beckett. And just because his name is different from Han's best-known mentor in Crispin's novel doesn't mean he won't be a similar character. A name doesn't mean much of anything. Harrelson could still be playing a Shrike-esque character — or he could be someone completely new, special to Star Wars movie canon.
Either way, at least audiences know Beckett did something right in mentoring Han.
The Han Solo standalone film is expected in theaters May 25, 2018. Here's everything we know about it so far.