'Justice League' Trailer Drops on Saturday, Watch a Teaser Now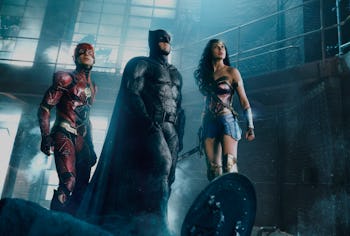 Warner Bros.
Even the Justice League isn't immune to the emerging trend of teasing trailers with trailer teasers. A 30-second teaser hyping the Saturday release of a new Justice League trailer is making the rounds on Twitter after debuting during The Today Show Thursday morning. This will be the first official trailer for Justice League; the footage released at San Diego Comic-Con last summer was more or less an extended preview.
At just 30 seconds, a solid half of which are dedicated to bold text saying "IN 2 DAYS" and "UNITE," the preview is water-iffic and mostly focused on Aquaman (played by Jason Momoa). We glimpse Batman tossing Aquaman his Trident of Neptune and Aquaman doing some kind of super magic in front of a coming wave. It looks pretty cool. Might look better in the full trailer.
The video ends with the unveiling of the Justice League, sans Superman, standing valiantly in their ship.
The reason there were only potato-quality rips on Twitter at first is because the teaser aired unexpectedly during The Today Show. It caught fans completely off guard as they raced to find and upload the highest quality. However, the film's official Twitter account shared a crisp version of the teaser shortly after noon.
Zack Snyder's Justice League will debut on November 17.