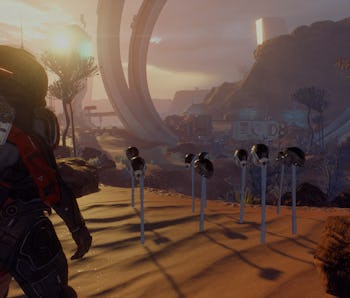 Gaming
The Best Ability Sets in 'Mass Effect: Andromeda'
A few character builds worth trying in your latest space adventure. 
Nicholas Bashore
Mass Effect: Andromeda's new Profiles — and the ability sets that come with them — allow you to freely customize your character with almost no restrictions. Unlike previous entries in the series, Andromeda lets you equip any three abilities from the entire skill tree and actively combine them with a passive Profile to provide enhancements to your combat prowess. Instead of being limited to just one set, though, you're able to create and swap between four different favorites at any given time during the game, meaning that you can essentially adapt to any combat situation, provided you take the time to setup a wide variety of ability combinations with Profiles to compliment them.
Completing a set of four favorites supported by Profiles can take a hefty amount of time to accomplish, but if you do your research and invest the skill points required to make your ability combos work, you'll have a leg up on just about every enemy in the Andromeda Galaxy. So if you're lacking inspiration or looking for a few fun and effective sets to try, here are some of our favorites from the game worth your time.
The Traditional Sniper
Active Profile: Infiltrator
Abilities: Tactical Cloak, Cryo Beam, and Overload
Passive Point Focus: Combat Fitness, Sniper Rifles, and Offensive Tech
If you're looking to keep a safe distance and engage your opponents without them homing in on your location, this favorite is right up your alley. The main goal here is to maximize the damage your sniper rifle of choice puts out downrange by diving into the Sniper Rifles passive ability in the Combat skill tree, then combining it with the active damage bonus offered when you use Tactical Cloak. The combination can demolish anything trying to get close to you while your squad members engage them up close. But, if enemies get a little too close for comfort, you'll be able to use Cyro Beam to freeze them and retreat to a more manageable distance. Overload finishes out the set, letting you knock down enemies with shields quickly or detonate combos that your Cyro Beam primes in combat.
The Invisible Comet
Abilities: Tactical Cloak, Charge, and Overload
Passive Point Focus: Barrier, Offensive Biotics, and Auxiliary Systems
While it may seem like a strange combination, this ability set focuses on capitalizing on the damage bonus provided from breaking out of Tactical Cloak to enhance the power of a full-force Charge to detonate combo primers on targets set up by Overload. Whenever you enter a fight, you'll want to immediately charge up an Overload and chain it to three clustered enemy targets to prime a combo detonation. Then, activate Tactical Cloak and use Charge to rush in for a massive detonation that will echo across the affected targets while knocking them down. Since this set will make you vulnerable due to its close quarters focus, you'll want to spend a few points in Barrier to fortify your shields with biotically empowered mass effect fields. Feel free to experiment with other options outside of Overload as well — such as Annihilation or Nova — for a more immediate effect that doesn't entirely rely on combo detonations to pump out damage.
The Biotic Wall
Abilities: Backlash, Omni Grenade, and Trip Mine
Passive Point Focus: Combat Fitness, Assault Rifles, Pistols, and Combat Tools
Designed for players interested in trying to re-create the Soldier class from the original Mass Effect trilogy, this ability set is built to take a beating while simultaneously dishing out damage from medium range. Since Mass Effect: Andromeda doesn't give you access to a consistent supply of special ammunition with the Soldier Profile, you'll want to fortify your weapons with the passive abilities available in the Combat skill tree. Pick two or three and focus on them, while also dumping points into both Combat Fitness and Combat Tools to increase the amount of damage your shields can absorb. By using Trip Mine and Omni Grenade you'll be able to punish anyone who tries to close in on your position — falling back on the defensive aegis barrier provided by Backlash if things get too dangerous. Remember, you'll also be able to push with Backlash too, deflecting incoming projectiles right back into enemy lines so long as it holds.
The Manipulator
Abilities: Throw, Singularity, and Pull
Passive Point Focus: Offensive Biotics, Containment, and Combat Fitness.
While becoming a complete biotic wizard with an entire kit of mass effect field manipulating abilities is out of the question due to the three-ability limited posed by Andromeda's new Profile system, you can still control the battlefield provided you take advantage of a few new mechanics added into the biotic abilities in the game. The goal here is to use the environment against your opponents, but because your abilities won't allow you to manipulate them without tearing through their shields or armor first, you'll want to invest some time into a powerful set of weapons that doesn't limit your ability cooldown too drastically. Use Singularity to pull enemies close and prime them for combo detonations with Throw, while grabbing isolated enemies with Pull and throwing them off cliffs or into walls like the Jedi we all wish existed in the Mass Effect universe. Don't forget to use Pull to grab objects like crates and use them as weapons either, which work surprisingly well against shields and armor depending on their composition.