Elon Musk Says Trump's NASA Bill Doesn't Make a Difference for Mars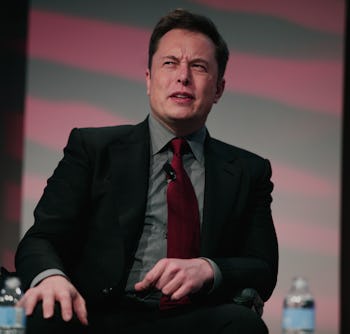 Getty Images / Bill Pugliano
On Tuesday, SpaceX CEO Elon Musk leveled a characteristically clinical assessment of President Donald Trump's signing of the NASA Transition Authorization Act of 2017 on Tuesday: "This bill changes almost nothing about what NASA is doing."
It was a response to Recode editor Kara Swisher, who suggested in a tweet that Musk was smiling after the signing.
The act emphasizes funding for deep space exploration, including Mars missions, and increases NASA's budget to 19.5 billion, while leaving the agency's Earth Science work — which the new administration plans to gut the following year — unharmed.
For a man who wants to send people to Mars and help start a colony on the red planet, this should have been good news, right? But Musk didn't appear too thrilled. The bill simply allows for "existing programs to stay in place and does very little for Mars exploration," he wrote on Twitter. Those programs include the Space Launch System and the Orion spacecraft, which NASA is developing and plans to use as a vehicle for future human travel to the red planet.
One of Musk's biggest goals with SpaceX is to get humans to Mars by 2025, nearly a decade ahead of NASA's current plan. The company is already made significant progress by scoring a $1.6 billion contract with NASA to develop a commercial crew vehicle for shuttling astronauts to the International Space Station. Last year, Musk outlined a vision for the SpaceX's Interplanetary Transport System for sustainably getting people to Mars.
Sec. 302 of the Act states that "NASA should build upon the success of the Commercial Orbital Transportation Services and Commercial Resupply Services programs that have allowed private sector companies to partner with NASA to deliver cargo and scientific experiments to the ISS since 2012." This kind of encouragement might persuade NASA to throw some more money to SpaceX — certainly something Musk could get behind.
An act this huge hasn't been signed since the NASA Authorization Act of 2010 under President Obama, which only briefly mentioned commercial involvement in NASA programming. But, it seems for Musk, this is not enough.
"Perhaps there will be some future bill that makes a difference for Mars, but this is not it," he said.