Stephen Hawking's Flight to Space Is His "Ultimate Ambition"
by Kastalia Medrano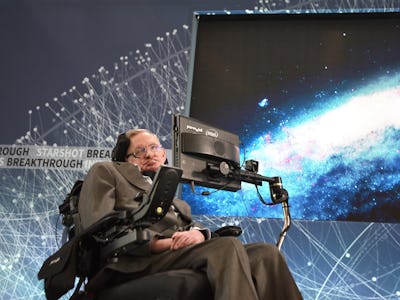 Getty Images / Bryan Bedder
Stephen Hawking's happiest moment was the birth of his first child. But the celebrated theoretical physicist says that the new experience he's most looking forward to is the very real possibility of traveling to space. He's already completed a zero-gravity flight that allowed him to float weightless, and says that traveling in space is what will make him happy now.
"I thought no one would take me," Hawking told Good Morning Britain on Monday. "But Richard Branson has offered me a seat on Virgin Galactic, and I said yes immediately. Since that day, I have never changed my mind."
Hawking has had his seat reserved on Branson's VSS Unity for months. Virgin Galactic has its eye on designing resusable spacecraft and making itself the horse to beat in the increasingly competitive arena of space tourism.
But VG's progress in private spaceflight has often lagged behind that of bigger names like Blue Origin, which has itself come to lag behind SpaceX, which has steadily pulled ahead of the field over the course of the last year. The company lacks the ambitious timelines touted by its two main competitors — space tourism by 2018 for Blue Origin; Mars tourism by 2025 for SpaceX — but has nevertheless stayed relevant with its work on Unity, which will seat six passengers when complete. Branson, Virgin Galactic chairman and puerveyor of the near-future's $100,000/hour private space flights, has also kept his company a frontrunner in terms of public perception by announcing various details of his "sexy" vision for space tourism. This means customers who can stay in space hotel pods and "head off in little spaceships around the moon when they wake up in the morning.".
Like many other titans of space science, Hawking believes that our exploration of space is imperative — for the sake of curiosity, sure, but also the survival of the human race.
In a wide-ranging interview, Hawking also discussed modern-day issues more relevant to life here on Earth. Hawking criticized Donald Trump's proposed travel ban and immigration policy, confirmed that he's a feminist, and — as he's done in the past — warned about the dangers of allowing A.I. to become self-designing to the degree that we lose control over it.
He also commented on NASA's recent landmark discover of seven exoplanets, saying he's excited for our technological exploration of them to begin. His overall tone seemed fairly optimistic for a man who's been vocal with his belief that aliens could easily kill us all dead.