Blue Origin's Reusable Rocket Will Launch Saturday for the Third Time
CEO Jeff Bezos said the launch will be a "big performance win, if it works."
by Kastalia Medrano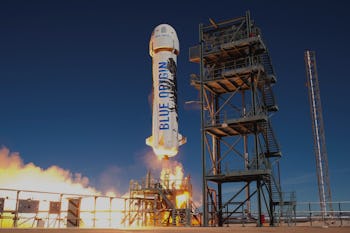 Blue Origin
Blue Origin's New Shepard rocket will launch for the third time tomorrow, according to tweets from company CEO Jeff Bezos. The rocket previously launched — successfully — in January 2016 and November 2015. When it landed intact after its first flight on November 23, it became the first reusable rocket to land successfully.
Bezos also said in a brief series of tweets that the launch would be "pushing the envelope," risking a crash within six seconds if the engine doesn't restart at 3,600 feet as planned. Drone cameras will be on hand to record footage of the launch, which Bezos said he planned to share.
Blue Origin is a private company dedicated to filling all your space-tourism needs, which puts it in direct competition with Elon Musk's SpaceX. Accordingly, this has brought us some good old-fashioned Bezos v. Musk space-race beef.
Bezos has previously declared that Blue Origin could start launching commercial space tourism as early as 2018.