Trump's 5 EPA Cuts You Need to Know About
The President's blueprint to "make America great" slashes about 30 percent of the EPA.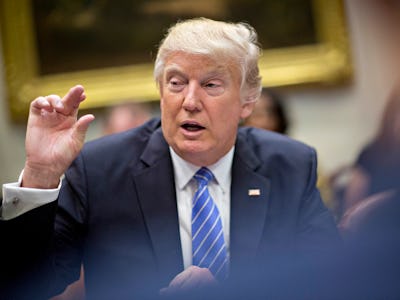 Getty Images / Pool
On Thursday, President Donald Trump released "America First: A Budget Blueprint to Make America Great Again", a proposed $1 trillion plan that heavily focuses on infrastructure, ramping up military spending, and increased border control — while knocking down about one-third of funding the Environmental Protection Agency (EPA), which is facing a 20 percent cut in its workforce.
The EPA is set to receive just $5.7 billion in funding and see a drastic deconstruction of many of the Obama administration's initiatives to curb pollution. Trump's suggestions — the budget is approved by Congress — amounts to a 29.6 percent reduction in funding; the EPA was granted $8.1 billion in funding for the last fiscal year.
"We do the budget here."
The plan is already raising the ire of Democrats and Republicans, however, with Senator Marco Rubio reminding the public that while the President can make recommendations, it's up to Congress to implement the budget. "The administration's budget isn't going to be the budget," the Florida Republican said. "We do the budget here. The administration makes recommendations, but Congress does budgets."
Adjusted for inflation, Trump's proposed plan slashes the EPA to its lowest funding levels in 40 years, holding back $2.6 billion from the agency's budget and hemorrhaging 3,200 positions from the current EPA.
Here are the five things to note from Trump's plan for the EPA and vision for the future of the environment in America:
1. It completely eliminates funding for restoration of the Chesapeake Bay and the Great Lakes
It hasn't been a hot time for water ecosystems in America, and local sources of freshwater are about to take a hit at a whopping $427 million. Restoration projects for Chesapeake Bay and the Great Lakes — the world's largest source of fresh water — have broad, bipartisan support. Projects include controlling pollution and runoff, monitoring invasive species, reducing algal blooms that lead to harmful water quality, and restoring habitats for rapidly disappearing native species. All those projects are going to be dismantled, leaving fragile local ecosystems in a lurch.
2. It erases the Clean Power Plan
Trump's vision for the EPA in 2017 excludes the Clean Power Plan, a barely two-year-old program launched by former President Barack Obama that sought to reduce carbon pollution. It's not a surprising cut — the Trump administration has long criticized the federal impinging on what they saw as the rights of corporations. Importantly, the Clean Power Plan — which was born as a result of international climate change talks to help curb carbon pollution around the world — also further walks the country back on international climate change treaties. The cut means not only $100 million in savings but also a cementing of the United States as the biggest polluter in the world.
3. It wipes out more than 50 lower EPA programs
The EPA's most prominent roles in environmental protection occur at grassroots levels, in programs that often target consumers are regional populations to aid them in attaining goals through grants the administration calls "duplicative." The cuts will wipe out programs ranging from Energy Star, the organization responsible for energy saving home appliances; get rid of Targeted Airshed Grants that aimed to reduce ozone and fine particulate matter; and infrastructure assistance for Alaskan villages and (ironically?) the Mexican-U.S. border. The estimated cost savings amounts to $347 million.
4. It guts hazardous waste planning
Landfills are a huge problem in modern America, and are about to become an even larger problem if the President's proposed budget passes in Congress, with $330 million cut. This especially affects the little-known but vital Hazardous Substance Superfund Account, defined by the National Institutes of Health as "any land in the United States that has been contaminated by hazardous waste and identified by the EPA as a candidate for cleanup because it poses a risk to human health and/or the environment." Toxic waste often seeps into groundwater and runoff that could potentially lead to environmental poisoning. All of that is on deck to disappear.
5. It weakens EPA enforcement of environmental violations
Perhaps most importantly on a ground level, the Trump administration's budget blueprint proposes taking funding away from federal EPA enforcement, in a stated effort to hand off more power to states to fund and supervise its environmental protection. This is supposed to be a cost savings of about $129 million, which in retrospect of other major cuts seems paltry and forgiving, but has far-reaching effects in how local authorities are able to police environmental issues by offering a reduced national incentive and authority to follow through on environmental goals.
The budget must be approved by Congress in October of this year.