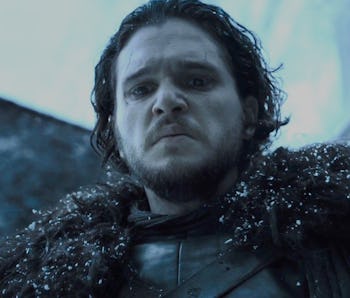 Entertainment
'Game of Thrones' Fans Lost Their Minds Over Melting Ice Video 
The 'Game of Thrones' Season 7 release date has been announced. Sort of. 
HBO 
In order to reveal the Game of Thrones Season 7 premiere date, HBO set up a Facebook Live video on the Game of Thrones page. The video invited viewers to watch the progress of ice melting, literally. Blow torches were used to melt a giant block of ice in which the release date to the show's new season was hidden. As the show's theme music played, the blow torches slowly, slowly melted the ice. And then, the live stream cut out several times, and the ice failed to melt in a timely manner. Several actors, including Isaac Hempstead-Wright, Gwendoline Christie, and Lena Headey, briefly appeared on screen to encourage viewers to type "fire" into the comments to reveal the date before disappearing to leave thousands tuning in alone in a stone room with a block of ice.
The premiere date — which is July 16th — eventually revealed itself an agonizing seventy minutes after the video started.
Naturally, Game of Thrones fans had strong reactions to the gimmick. Here's a round-up of the best salty tweets in the Seven Kingdoms.
Many fans compared it to events surrounding the show.
Others speculated on what could be done to expedite the process.
And others were simply amused.
Game of Thrones Season 7 will premiere on July 16.