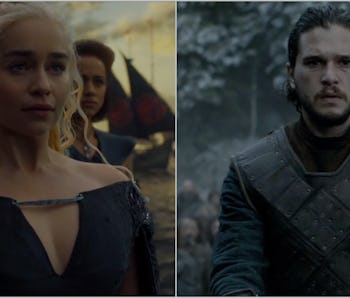 Entertainment
First 'Game of Thrones' Season 7 Poster Returns to Ice and Fire Roots
Game of Thrones is, of course, based on George R.R. Martin's book series A Song of Ice and Fire. If you somehow missed this major theme running throughout the entire series, worry not: HBO is making it abundantly clear what it's really about with a frustratingly vague poster for the upcoming seventh season.
The poster, which fans first noticed a couple days ago on the side of buses in Austin, TX, ahead of South by Southwest, doesn't give people much to go on. Thrones detectives have been scouring leaks, set photos, and casting calls to try to piece together the plot of the penultimate season, but so far HBO has been very secretive.
The full new poster, which was revealed on Wednesday, continues this trend. It's just an icy backdrop that's being licked by flames with the phrase "#GOTS7" on top of it. There's not even a specific release date.
While there aren't any characters or recognizable locations (unless what we're looking at is the Wall), the poster does hint that fire and ice are finally going to meet. Ice, of course, represents the North, the home of the Starks and the White Walkers who are gearing down on Winterfell. Fire, meanwhile, represents Daenerys and her dragons.
Now that's Dany's finally headed to Winterfell, it seems inevitable that she's going to meet Jon Stark, the King in the North (and a secret Targaryen, unbeknownst to them). She also might bring her dragons to bear against the White Walkers — and if rumors are to be believed, we might see an ice dragon at some point.
In any case, fire and ice are going to come together — and there's bound to be conflict.
Game of Thrones Season 7 doesn't have an exact premiere date yet. All we know is that it's coming out this summer.