'Taboo' Gets Renewed for a Second Season of Tom Hardy Sex Magic
The Tom Hardy, Steven Knight, and Ridley Scott drama is returning for a second season.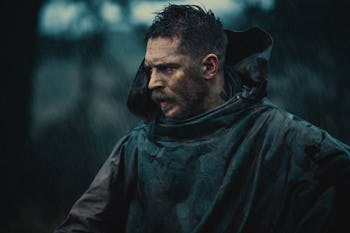 FX
Tom Hardy's gothic and batty period drama Taboo has been officially renewed for an eight-episode sophomore season on BBC and FX.
The first season, which was co-created by Hardy, his father Chips Hardy, and Peaky Blinders's Steven Knight, revolved around Hardy's character James Delaney as he clashed with the East India Trade Company. That was the main "plot," but it was really about Tom Hardy talking to ravens, prowling around in a top hat and coat like an old-timey Bane, using his vaguely voodoo-esque magic to talk to fireplaces and magically have dream-sex with his sister, and growling "I have a use for you," at various people.
Taboo won over fans because its substance was secondary to style in a way that was engaging. Typically, style over substance is the ultimate insult, but the combination of Hardy's scenery-chewing and its ornate set design gave it the tone of a theater experience wrought on TV — though the series is not without its detractors.
This is exactly in line with Steven Knight's vision, as he described the series as "an impressionistic, rather than figurative, approach to a narrative which we hope more accurately portrays the spirit of an extraordinary time in history."
Season 2 left Delaney's sister Zilpha ostensibly drowned in the Thames as Delaney and his League of the Damned sailed off to foreign lands under an American flag.
Season 2 will follow Delaney's continued adventures in 19th century America. It will air at an unspecified date on the BBC and FX.