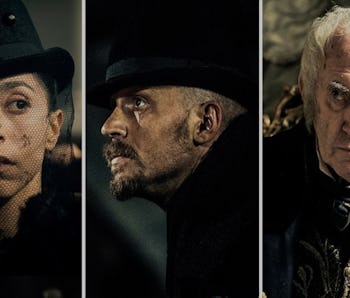 Entertainment
You Will Root for Tom Hardy's Flawed Hero on FX's 'Taboo'
A primer on Tom Hardy's crazy new FX show "Taboo." 
FX/Youtube
Tom Hardy prowls a ship-lined shore in a top hat and dramatically billowing coat right before casually threatening to rip balls off. This is not a day in his life (as far as we know) or an entry in a piece of Tom Hardy-based fan fiction (as far as we know), but a scene in his new FX miniseries Taboo.
Created by the triumvirate of Hardy, his father Chips Hardy, and Peaky Blinders's Steven Knight, it's pretty much exactly what you'd expect from a show created by Tom Hardy and his dad, in the most delightful way. In addition to the aforementioned prowling and threatening, his character James Delaney is constantly called "savage" and trailed by accusations of madness, has mysterious facial scars and tattoos, is possibly magical, hits on his sister, and generally gives zero fucks. Tom Hardy does not just chew scenery in Taboo, he gives it the scorched-earth treatment.
The show is ostensibly about family legacy, imperialism, and the politics of the shipping industry in 19th century Britain. Wild card adventurer James Delaney returns to Britain after a long stint in Africa — so long that everyone is shocked he's alive. He's inherited his deceased father's shipping empire, to the displeasure of the gentlemen of the East India Company.
Taboo indeed contains many staples of your average period piece show. The political scenes with the East India Company feel rather like the Small Council scenes in Game of Thrones, not least because actors Jonathan Pryce (who was the High Sparrow) and Roger Ashton-Griffiths (Mace Tyrell) are present. There are brothel scenes with sly Madams and offices lined with old timey maps and heavy wooden furniture, both reminiscent of Black Sails. There are cloak-and-dagger meetings with disreputable gangster types, which unsurprisingly evokes Peaky Blinders. Even scenes like Delaney hitting on his sister feel in line with both Game of Thrones and gothic fiction like Penny Dreadful.
But Taboo is also unhinged in a way that makes it utterly unique. It has supernatural elements that appear and are then barely acknowledged. It's essentially a vehicle for Tom Hardy to do exactly what he wanted, which seems to be wearing period attire while shouting at ghosts, decking himself out in mysterious paint, and brooding naked on ships to display his mysterious tattoos.
As other characters explain, there are rumors that Delaney has been up to "awful and unnatural" things these past ten years he's been away. The show keeps his secrets cloaked from the audience, and as a result, it's difficult to discern if we're supposed to like him or even how we're supposed to interpret its presentation of its supernatural elements.
With Tom Hardy prowling around like a pirate Bane, intensely delivering lines like "I have sworn to do very foolish things," and shouting at ghosts, do you really need to worry about what's going on or whether you like his character?
Taboo is a nutty, atmospheric delight, and it will premiere on January 10 on FX.