'Taboo' Season 1 Was a Success Because It Experimented Well
Bring on 'Taboo' Season 2. Television needs it.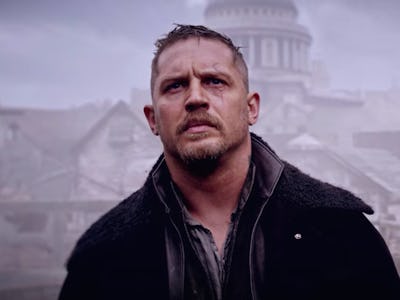 FX
At one point during the Taboo Season 1 finale, Tom Hardy's character, James Delaney, gets out of prison by telling his captors that they will release him because "the ravens" told him they would. Sure enough, in the next scene, he's been released. He strolls around outside in a dramatically billowing black coat, free as an eighteenth century Batman once more. The ravens were right!
For anyone who happened to be flipping channels, this scene made little sense. For anyone who has followed the entirety of FX's gaslight and gunpowder drama — which was created by the trio of Tom Hardy, his father, Chips Hardy, and Peaky Blinders's Steven Knight — the scene still uses clunky logic, but it captures the essence of why Taboo's first season was so enchanting.
Under ordinary circumstances, to say that a television show's plot doesn't matter is the ultimate criticism. But Taboo's truly didn't, because it's a show that makes a case for atmosphere and scenery-chewing, enacted merely for the sake of it. In this era of heavily plot-based television, when guessing what will happen and parsing out clues is the main draw, Taboo has an almost theater-like sensibility, which makes it unique.
Its eight-episode run was utterly indulgent, letting Tom Hardy do whatever the hell he felt like doing.
In different hands, this might be cringeworthy. But because Tom Hardy stands alone in his unique capacity for riveting performances, balls-to-the-wall commitment, and no small amount of lunacy, the payoff was a blast. Whatever the hell he wanted to do turned out to be having magical sex powers, fucking his sister, and bringing his typical routine of glowering, prowling, smoldering, and mumbling his lines to the next level.
Other than an aside about how an African man taught Delaney to hone his powers during his time abroad, the show never truly did illuminate how his magic works. It never clarified why so many people are eager to do his bidding when he says, "I have a use for you," even if he interrupts them during sex ("So, ejaculate. Then we can talk business") and treats them rudely. But it didn't need to, because the ornate pastiche it painted was so atmospheric and pulsing with lunacy that the viewer was pulled along for the ride.
For all that James Delaney spoke of "participating in darkness that you cannot conceive," all the show revealed of his darkness was murder, incest, and talking to ravens and fireplaces. While compelling, those elements are hardly "inconceivably dark." But when the final episode closes with Delaney and his league of the damned sailing off into the sunset and saying, "we are Americans," it's hardly an unsatisfying finish. Supporting cast aside, it was a finely wrought one-man play with a killer budget.
Other shows that have tried to capture the sensibility of old fashioned theater fail because the acting and writing isn't up to par, like Medici: Masters of Florence or Versailles. Or they fail because they don't have a figure like Hardy and are therefore cancelled before their time, like Penny Dreadful. A show like Taboo is exceedingly rare because the stars must align in marrying a uniquely popular, yet capable figure like Hardy with material that dances on the edge of style and substance.
Season 2 has not been officially announced yet but Hardy has said there's more story to tell, and he's "confident" it will happen. There's every reason to believe him if the ravens told him.