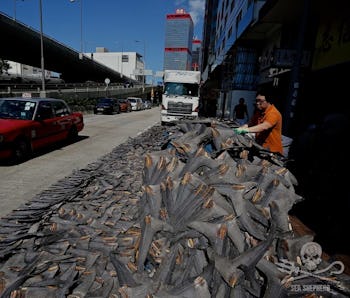 Science
Sea Shepherd Uncovers Huge Shark Fin Shipments in Hong Kong
Exporters are mislabeling cargo to circumvent transportation bans.
Gary Stokes/Sea Shepherd Global
Late last year, a Sea Shepherd operative caught some damning video footage: two shipping containers owned by Maersk — the self-described "world's largest container shipping company" — being offloaded on a Hong Kong street, filled with shark fins.
The ocean advocacy group released the video Monday along with a conciliatory message: Shipping companies like Maersk are partners in stopping the shark fin trade; it's the exporters who seek to break the rules who are the enemy and must be stopped.
Since 2010 Maersk has banned the transport of shark fins on its containers. Sea Shepherd documented shipments of shark fin by this and other major carriers who had banned fin transport over the course of a three-month investigation. When shark fins are shipped without the rest of the body, it usually means that the rest of the shark went to waste. Once the sharks are sliced off, sharks are often returned to the ocean still alive where they suffer a slow and painful death.
But the discovery of the shipments put Sea Shepherd in a tricky spot — many species of shark fin are not illegal for global trade, and so the organization relies on the cooperation of shipping companies like Maersk to implement and enforce wholesale shark fin transportation bans. In other words, some public pressure is required to convince companies to do their best to avoid shark fin shipments, but it's not in the interest of shark advocates to make them out to be the bad guys.
"We see these responsible companies as victims of the ruthless shark fin trade who will stop at nothing to continue their barbaric trade," according to the Sea Shepherd video. Shark fins are often labeled "dried seafood" or another generic term to avoid transportation bans.
Sea Shepherd is known for its no-holds-barred approach to ocean wildlife conservation, but this video is devoid of the typical shocking scenes of suffering sharks and mountains of fins. The closest you'll see is just the tip of a single shark fin poking out from a shipping bag.
This is certainly a calculated approach — Sea Shepherd needs the cooperation of Maersk and other shippers more than they need public outrage. A news release issued with the video highlighted new actions and promises by Maersk, Cathay Pacific Airways, and Virgin Australia Cargo to better enforce shark fin transportation bans as a result of the Sea Shepherd investigation and negotiations that followed.
Ultimately, trade in shark fins stops when no one wants to buy them anymore. Shark fin soup remains a popular dish for weddings and other celebrations in parts of Asia, and shark fins are used in traditional medicines. The most effective pressure to end this demand will come from within the cultures where it is present, and not from outsiders looking in.
Fortunately, a Chinese-led movement to end shark finning has already gained significant momentum. In 2006, former NBA star Yao Ming pledged not to eat shark fin soup, and has been credited with appeasing the Chinese appetite for the dish. Major wedding banquet halls in China and Hong Kong have taken shark fin off the menu.