Louie Psihoyos's Doc 'Racing Extinction' Nosedives Into the Shark Fin Trade
Leading scientists say that human civilization is on the cusp of the sixth age of extinction, which isn't a good thing. 
by Sam Blum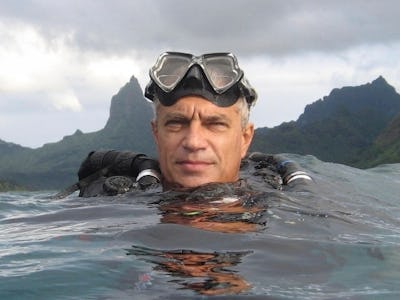 An ambitious new documentary, Racing Extinction, the second feature film by Academy Award winner Louis Psihoyos, attempts to go deep and wide: It nosedives straight into issues like China's shark fin trade (used for bland soup that's more of a status symbol than anything else) and stretches its wings to when attempting to cover carbon emissions problems that drape the globe.
In the film, which airs Wednesday, December 2 on the Discovery Channel, Psihoyos shines a light on familiar yet still harsh truths about global climate change, namely that all over the world, ecosystems are dwindling. Scores of species, many which live underwater, are increasingly threatened by warming oceans, while many of the planet's lushest reefs, once teeming with vegetation, are lying fallow.
While climate change skeptics with inordinate influence command a lot attention, less known are measures undertaken by activists to illuminate some of the causes of global warming.
That's where Psihoyos comes in.
In the film, you'll see Psihoyos, a former journalist, infiltrate a shark fin processing facility in Hong Kong, armed with minuscule cameras that his team places inside their shirt buttons — an action that's cause for imprisonment in some countries.
You'll also see more of the rogue activism that Psihoyos and his group from the Oceanic Preservation Society have become known for. According to Psihoyos, the group exists to use "covert operations to expose harm to endangered species," throughout the world.
Many of those "covert operations" involve undertakings in perilous contexts, but the group does other things, like project images of endangered wildlife on New York City landmarks like the UN and Empire State Building. In the film, Psihoyos and his crew drive around in a Tesla rigged with a high-capacity projector that blasts the images on buildings. (Yes, Elon Musk makes a cameo.)
Racing Extinction, memorably uses infrared cameras that detect carbon emissions and shows what those emissions actually look like in plain sight.
The film is set to broadcast in 220 countries around the globe.