Fox's X-Men Pilot is Looking More Like a Morlocks TV Show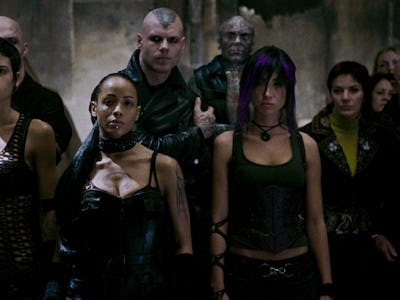 20th Century Fox
Fox has cast another character in its still-untitled Marvel project set within the universe of its X-Men franchise. True Blood star Stephen Moyer will play Reed, a family man who works at the DA's office and discovers his children has mutant powers, sending them underground to hide from a hostile government. Reed looks like he'll either be an original character — there are no "Reeds" except the Fantastic Four's Reed Richards — or a pastiche personality made up of secondary characters. (There's a lot of lawyers in the Marvel Universe.) Furthermore, the plot is sounding a heck of a lot like it's becoming a Morlocks series.
The plot summary describes two ordinary parents who learn their children have mutant powers. They go on the run and join an underground network of mutants and learn to survive. The pilot will be written by Matt Nix and directed by X-Men shepherd Bryan Singer. An "underground network of mutants" hints at several groups, but since Magneto is so closely tied to the Brotherhood of Mutants, it's more likely the series could be based off the Morlocks from Uncanny X-Men.
Created by Chris Claremont and Paul Smith for Uncanny X-Men #169, the Morlocks are an underground society of mutants who live beneath major cities like New York, Chicago, and London. Unlike other mutants, like the X-Men, the Morlocks have such severe mutations they're deemed too different to live in peace above ground. Think of the leper colonies in ancient Jerusalem, but comic book-y.
The first group of Morlocks was formed by Callisto (but don't tell Dark Beast that), who recruited Caliban and used his power to track other mutants society cast out. The Morlocks inhabited old Cold War shelters that had been forgotten after the collapse of the Soviet Union.
The Morlocks aren't terribly popular or well-known, so there's a lot of creative liberty afforded for the still-to-be-titled series. They had a bit role in 2006's X-Men: The Last Stand and Callisto is a pretty famous rival to Storm, but given the direction of the X-Men franchise by Fox it's unlikely Storm — who has a major role in the films — will appear in this new series. Whatever it's going to be about.
To see a member of the Morlocks in action, check out Logan in theaters March 3.