Iran's First Female Spacewalker Was the Biggest Surprise at the Oscars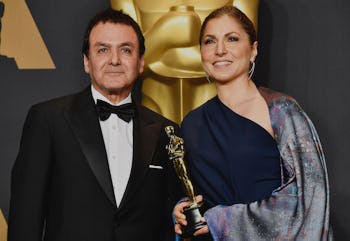 Getty Images / Frazer Harrison
Science took center stage at the 89th Academy Awards, and not because Arrival walked away with the Oscar for Best Picture. In response to President Donald Trump's currently halted travel ban, Iranian director Asghar Farhadi, the winner of Best Foreign Language Film, sent two prominent Iranian-American scientists to accept his award on his behalf. His statement was read by engineer and entrepreneur Anousheh Ansari, who has accomplished many science firsts, including being the first Muslim woman to travel in space.
"My absence is out of respect for the people of my country and those of six other nations whom have been disrespected by the inhumane law that bans entry of immigrants to the U.S. A deceitful justification for aggression and war," Ansari read aloud.
Ansari had a brush with her own political controversy in 2006, when she was requested by the United States and Russian governments to not wear the Iranian flag on her spacesuit. The dual citizen had planned to wear both the American and Iranian flags — not as a political slight but as a tribute to the two countries that shaped her. She ended up wearing the Iranian colors instead of its flag on the journey that made her the first Iranian in space, the first female self-funded citizen to fly in space, and the first person to blog from space.
At the Academy Awards, she was joined on stage by Firouz Naderi, the former director of NASA's Solar Systems Exploration program and the former manager of the agency's Mars Exploration Program. The "Naderi" asteroid is also named for him.
Ansari and her family are also the creators of the Ansari X Prize, a $10 million prize awarded to the first private space company to launch a spacecraft into orbit twice in two weeks. In 2004, the award went to SpaceShipOne, an event that is credited with kicking off the private space race. Ansari, who earned billions as the co-founder of businesses Telecom Technologies Inc. and Prodea Systems, continues to be a public advocate for space exploration today. On Sunday night, she was congratulated by astronauts Chris Hadfield and Leland Melvin for her work and her Oscars moment.
While nobody knew what would go down at the Oscars, Farhadi announced on Friday that Ansari and Naderi would be representing him at the ceremony. The choice to ask Iranian-American members of the scientific community to present his politicized statement was likely far from incidental: Iranian scientists pursuing research in the United States were one of the groups of people most affected by the ban. Just as Ansari studied electrical engineering and computer science once she immigrated to the United States, 75 percent of the approximately 8,700 Iranian students that come to America each year pursue STEM research.