In Bizarre Twist, 'Moonlight' Wins Best Picture Oscar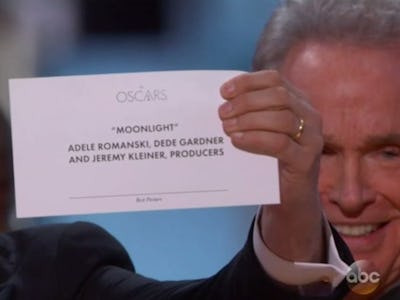 In a bizarre twist on Sunday, the Oscar for Best Picture went first to La La Land and then to the true winner, Moonlight.
Faye Dunaway and Warren Beatty came out to announce the last and biggest award of the night after Emma Stone had just won Best Actress. In a moment of confusion — as Warren Beatty later explained — they announced La La Land as the winner after glimpsing Stone's name on the card.
It wasn't until the cast and crew of La La Land were onstage and giving their acceptance speeches that a stagehand came running out to double-check Beatty's card. La La Land producer Fred Berger found out in the middle of his thank you speech, ending abruptly with, "We lost by the way."
"There's a mistake," interjected another La La Land producer, Jordan Horowitz. "Moonlight, you guys won Best Picture. This is not a joke."
After announcing that he was honored to hand the award to his friends, the cast and crew of Moonlight flooded the stage to claim the most prestigious award of the night.
In an attempt to explain what happened, Beatty cut in to say, "I have to say and it is true; it's not fake."
What had actually happened was that Beatty was handed the wrong card backstage. Instead of reading from the Best Picture envelope, he read from the Best Actress envelope, an award which Stone had just won.
Not knowing what to do, he paused, looking to Faye for help when she announced La La Land based off the card in front of them.
In what felt like a fairy tale ending for Director Barry Jenkins, he said, "Even in my dreams this could not be true, but to hell with dreams, this is true."
The Moonlight cast and crew pulled off the upset of 2017, winning over a very palatable La La Land. The audience, both in the theater and on the internet, went wild. Twitter celebrated what felt like a righteous victory after a devastating Beyoncé Grammy snub, and considered it a win for the culture.
Others considered it the scariest horror watch of the year.
Most people lamented the fact that this mix-up had to happen to Moonlight.
But no matter which movie you were rooting for, everyone agreed that this was an unforgettable Oscars moment.