'Deadpool 2' and 'New Mutants' Coming Sooner Than You Think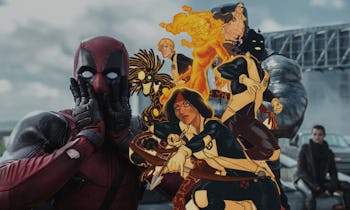 20th Century Fox, Marvel
James Mangold's Logan is the end of an era in Fox's X-Men movie universe. But the next one, ruled by Deadpool and some new young hooligans, is quickly approaching. Producer Simon Kinberg, who also wrote 2016's X-Men: Apocalypse, said in an interview that both Deadpool 2 and New Mutants are aiming for a possible release date in 2018.
"We're gearing up to make both of them this year," Kinberg told Collider, adding that 2018 could potentially "have a surfeit of X-Men and X-Men-related movies in theaters."
Kinberg confirmed that a new draft of the New Mutants screenplay is on the way to the studio and that director Josh Boone has been prepping "to make that movie late spring, early summer of this year, and have it come out next year."
Along with New Mutants, work on the sequel to last year's Deadpool has also been underway. "Ryan [Reynolds] and the guys have been working hard on the script," Kinberg said. "We have a really good script for that movie, and we're into the casting process right now for some of the new characters. There aren't a lot of new characters, but there are some big ones, as I'm sure you can imagine. And the plan would be to shoot that movie this year as well and have it come out next year."
New Mutants, created by Chris Claremont and Bob McLeod for Marvel in 1982, are a younger class of mutants at Xavier's School who go off on their own adventures filled with interpersonal drama and conflict. The series introduced some pretty important characters in the X-Men universe today, including Legion and Deadpool, both of whom have their own live-action adaptations out right now.
In regards to Deadpool 2, among the "few" characters Kinberg hinted at in the sequel definitely include Cable and Domino. But the filmmakers, namely screenwriters Rhett Rheese and Paul Wernick, have expressed a desire to keep Deadpool 2 free from being "overstuffed" with new and unfamiliar characters.
There is no definite release date for either New Mutants or Deadpool, but you can safely expect both to get scheduled sometime in 2018.