The Best True Crime Documentaries on Netflix in October, Ranked
They'll have you on the edge of your seat.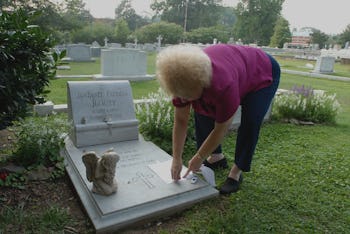 Getty Images / Barry Williams
Netflix might be purging classics from its repertoire this month (RIP Titanic, 30 Rock and Million Dollar Baby), but never fear, the documentary category is filled to the brim with true crime stories to obsess over.
People are really into true crime stories. There's something about the tie to real life with the ability to launch our own investigations that has fed the popularity of the subgenre. As we experienced with Netflix's Making a Murderer and The Keepers, viewers concocted their own conjectures in an attempt to get to the bottom of the tragedies.
So if you're looking to channel your inner detective, psychiatrist, or attorney (or all of the above), we recommend the following eight Netflix documentaries for the month of October. Best of luck.
8. Belief: The Possession of Janet Moses
The re-enactment scenes in this documentary are more akin to those in a thriller film, but remember, this is real life. And with this exorcism gone wrong, everything actually happened in New Zealand in 2007. Instead of vilifying the victim's family and blaming them for the death, this documentary aims to shed light on all sides of the story, which includes the complicated perspective of the family. Available to stream on Oct. 15.
7. The Skyjacker's Tale
After hearing about this story from his car mechanic, director Jamie Kastner delves into the crimes leading up to a 1984 plane hijacking. The documentary shines with incredible access to players — including the fugitive hijacker still wanted by the FBI — along with a "treasure trove of found stock footage." While the retro vibe might seem somewhat silly, the overall takeaway won't disappoint. Available to stream on Oct. 10.
6. The Thin Blue Line
It could be considered the granddaddy of the true crime genre and remains today among the most well-known movies of its kind. Directed by Errol Morris and released in 1988, The Thin Blue Line recounts the story of Randall Dale Adams, who was falsely convicted by Dallas police of being a cop killer. The revelations from this documentary led to the discovery of the real killer while it exposed rampant corruption and abuse of power within the police force. Even though this has been on Netflix for some time now, it's an unequivocal must-see for anyone interested in true crime, documentaries, the justice system, or skilled filmmaking in general. Currently available for streaming.
5. The Death and Life of Marsha P. Johnson
This doc tells the story of a transgender woman, Marsha P. Johnson, who was found dead in the Hudson River in 1992. Although cops ruled her death a suicide, suspicious circumstances surrounding her death led many to believe she was murdered. Beyond the investigation of her death, this film sheds light on Johnson's role as a gay rights movement activist in the 60s alongside leaders like Sylvia Rivera. Directed by David France, this Netflix Original, premiered at this year's Tribeca Film Festival. Available to stream on Oct. 6.
4. Strong Island
The 1992 murder of William Ford, an unarmed black man, came well before the launch of the Black Lives Matter movement. But its release amidst the current climate and conversation helps frame the racial injustice that's existed for years. Director Yance Ford, who is also the sister of the victim, talks to her brother in the trailer, which is both deeply personal and chilling. The movie premiered in January at the Sundance Film Festival, where it won a Special Jury Award for Storytelling. Currently available for streaming.
3. Icarus
To many, the allegations of widespread doping of Russian athletes seem far away and irrelevant, but there are plenty of performance-enhancing drug scandals beyond Lance Armstrong and Major League Baseball. This documentary shows just how much of an impact the drama has on the international world of sports. Director Bryan Fogel said he initially intended the documentary to be a personalized experiment in doping in the style of Super Size Me, but he stumbles on a much bigger controversy. Hint: It involves Russia's President Vladamir Putin. Currently available for streaming.
2. A Murder in the Park
This must-see documentary unfurls a little-known case by going beyond how a wrongful murder conviction happens in Chicago. It doesn't focus on police blunders, but instead, it explores the involvement of journalism students in freeing a man days before he was scheduled to be executed. Without giving too much away, there are so many twists and turns in this story that it's honestly hard to believe it's real. Currently available for streaming.
1. Casting JonBenet
If you have yet to see this film since it was released on Netflix in late April, you've sorely missed out. Another Netflix Original, this documentary is told in a narrative I've never seen a true crime story do before. A series of actors vying to be one of the various players involved in the JonBenet Ramsey story are the stars. They read excerpts of words their characters actually said, talk through the feelings they're trying to convey in their interpretation of the role, and even recall their personal connections to the real life story. It sounds crazy and disjointed, but it works to tell a story many are familiar with from a unique perspective. Currently available for streaming.
If you're interested in more to watch on Netflix, check out the best science documentaries available to stream.