Trump's Going to Lose the War on Weed Culture
Sean Spicer said, "I do believe that you'll see greater enforcement of it."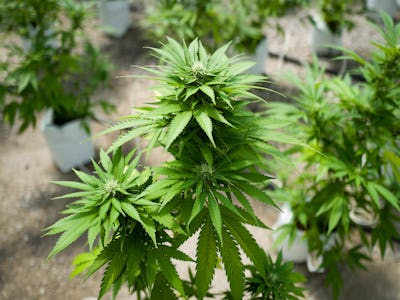 Getty Images / Drew Angerer
White House spokesperson Sean Spicer declared war on Thursday afternoon, but it's not a winnable fight.
During the daily press briefing, Spicer told reporters that states where recreational marijuana use has been made legal by voters will be subject to "greater enforcement" from the federal government.
While the country's current leaders think they might be able to wage an effective fight against weed culture, it's futile.
The Trump administration wants to make people think that it's going to come for their weed. Even if the current leaders of the country try, they're going to lose.
"There's a big difference between that [medical marijuana] and recreational marijuana, and I think when you see something like the opioid addiction crisis blossoming in so many states around this country, the last thing we should be doing is encouraging people," Spicer said, choosing an oddly positive verb to describe a drug epidemic. "There is still a federal law that we need to abide by in terms of recreational marijuana and other drugs of that nature."
Spicer trying to correlate marijuana consumption with the opioid addiction is just plain wrong. A 2014 report from the John Hopkins Bloomberg School of Public Health found that in states where medical marijuana for chronic pain is legal, the yearly number of deaths from prescription drug overdose is 25 percent lower than in states where medical marijuana remains illegal.
And as Debra Borchardt writes at Forbes, "It is widely regarded that the opioid crisis was spurred by big pharmaceutical companies that liberally prescribed the addictive drugs like Oxycontin and Vicodin, not marijuana consumers." Essentially, Spicer was making a connection not backed by facts.
Under federal law, marijuana is still illegal. But voters in seven states, Colorado, and Washington D.C. over the past couple of years have approved legislation that allows selling and consuming recreational pot. Later, when asked about the proposed increase of enforcement and the fact that marijuana laws are a federal-state affair, Spicer said: "That's a question for the Department of Justice. I do believe that you'll see greater enforcement of it."
It's unclear exactly what form that greater enforcement will take. And in a lot of ways, the war against weed culture is already lost. In 2015, Colorado raked in almost $70 million in tax revenue from weed. If people are obtaining it legally, and it's helping the state's economy, there isn't much that the Department of Justice can do to intervene.
People online were quick to point out some of the contradictions regarding the stance on weed, especially considering that just earlier this week Trump's administration withdrew federal protection of transgender students and relegated it back to states' rights. Others were unbothered by Spicer's decree.
And others are already fighting back against Spicer's comments. Washington state, which has a legal pot law, will reportedly resist the federal crackdown.
"I will resist any efforts by the Trump administration to undermine the will of the voters in Washington state," Washington Attorney General Bob Ferguson told The Seattle Times in an interview.
Ferguson is also the same man who helped coordinate a team to quickly file the lawsuit that halted Trump's travel ban, otherwise known as the Muslim ban. If it comes down to a meeting in court, it's likely the president will be beat by the same man who owned him with the law earlier this year.