How to Stream Future's Second New Album in a Week, 'HNDRXX'
He dropped a self-titled LP last Friday.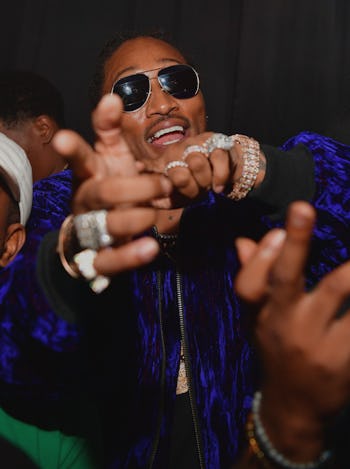 Getty Images / Prince Williams
After not releasing an album for a full year, Future is back with a vengeance. The trap artist released a self-titled LP last Friday, but now he's dropped a second album, HNDRXX. And, unlike last week's effort, this one has some big name features.
The 17-track album, which is a little more pop-y than his last release, features guest appearances by The Weeknd and Rihanna. The Weeknd's track, "Coming Out Strong," puts his crooning to good use, and his pure vocals contrast well with Future's more deep-throated delivery. Rihanna's track, "Selfish," starts slow, but eventually picks up speed as RiRi and Future have an autotuned, fairly emotional duet.
If HNDRXX hits No. 1 on the Billboard Charts, it will make the Atlanta rapper the first musician to ever have back-to-back chart-topping albums. It's never happened before, and Billboard has been keeping track of this for more than 60 years, so that's saying something. Frankly, I wouldn't be that surprised if he's got a third album in the works for next Friday.
HNDRXX is now streaming on Spotify and Apple Music. It is also streaming on Tidal if you're one of the, oh, dozen or so people who have a Tidal account.