How to Stream Future's New Self-Titled Album
The LP mistakenly came out a day early, but Spotify quickly took it down.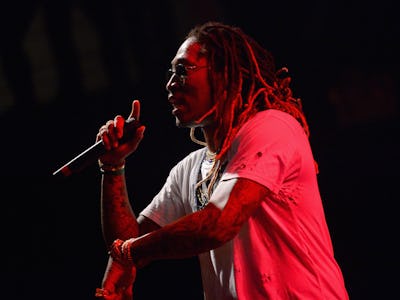 Getty Images / Andrew Toth
Future is a fast-moving guy. The Atlanta rapper just announced a new 17-track album on Valentine's Day, and it's going to drop on Friday. It's his first project since last February's Evol, and this one is pure Future — not a feature to be heard. He will, however, be going on his just-announced tour in May alongside Kodak Black, Migos, Tory Lanez, Young Thug, and A$AP Ferg, so there's still plenty of collaboration ahead.
Future, which is already out in international markets, actually came out in the U.S. a day early, briefly, on Spotify, before the streaming service realized its mistake. If you didn't get a chance to listen to the LP during its preemptive, short-lived release, fear not. Here's how to stream Future, which comes out on February 17.
The first single from Future's fifth studio album, "Poppin' Tags," already came out a while ago. You can stream it — and watch the swanky music video below.
Future is streaming on Spotify.
The album is also available on iTunes, naturally.