Why California Might Be the Last State to OK Self-Driving Cars
But the smart money is on Puerto Rico.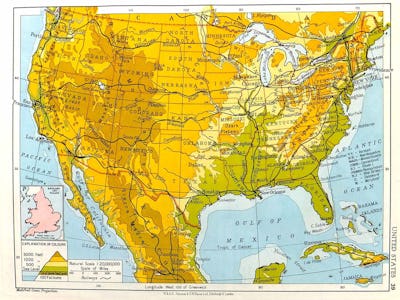 Flickr / peonyandthistle
It's tough to tell in these early days of self-driving cars, but there's going to be a state that holds out on legalizing autonomous cars. It's sort of like that other legalization effort.
It might be a point of pride, to be the last state where people drive their own cars — or maybe it was in response to an early autonomous accident that left the state with a bad impression. Or the last legalizer could be holding on to old ideals of car ownership long after the rest of the country has embraced its car-sharing future. No matter the reason, figuring out which state will be the last to go full monty on autonomy is a difficult question to answer.
"You could pick one out of a hat and be right one of fifty times," Erick Guerra, an expert in city and regional planning at the University of Pennsylvania, tells Inverse. "I guess it will tend to be a state that is kind of a heavy regulator, but it could be a lot more random than that."
But there are a few factors that make a state more likely to be the last legalizer — a history of a lot of regulation, an emotional connection to driving, being very individualistic, or having fewer urban centers, says Guerra and Carlos Ratti, the director of the MIT Sensible City Lab. This leaves an interesting list of possibilities with the more rural states and California making strong cases to be the last to legalize.
"I believe it will be the more 'individualist' states," Ratti, tells Inverse. "In general, all of the more Republican states [will be later to legalize] — I would say."
The "individualist states" that are unlikely to adopt car-sharing are primarily rural states, he says.
"Self-driving vehicles, in fact, promise to have a dramatic impact on urban life when shared by a community," says Ratti.
And in places with a lot of urban centers to create this sense of community, autonomous cars are more likely to be legalized early. Most people in cities don't own cars anyway, so there isn't that emotional connection to owning a car. And the emotional connection to owning a car is an important factor for autonomous cars, Ratti says.
"Could we imagine the protagonist of The Straight Story by David Lynch crossing Iowa and Wisconsin on a driverless car instead of his '66 John Deere?" Ratti asks. Since it will eventually be easy to accept the federal government's legalization of autonomous cars, the last state to legalize will depend on things that drive an emotional desire to make them illegal. That could be nostalgia or a strong trucking culture. A negative reaction to a crash or fatality in an autonomous car could also have a big impact on legislation, says Guerra. "It could basically boil down to just one person's decision, and that person ends up getting legislation passed."
It's not a question of being slow to regulate, says Guerra. Just not bothering to create autonomous car laws until the federal government does won't make something the last state, says Guerra. "It will kind of take something a little more active to be the last state.
"You'd have to kind of intentionally be going against the grain."
And good candidate right now for that is California.
"California is a state that's often in front of the pack in terms of different types of regulations," says Guerra. Although it maybe seemed like it might be the first to legalize autonomous cars, the pushback on autonomous testing has left autonomous tech companies scrambling. "So they might be a state that's likely to says: you know, we're not going to do this," Guerra says. However, he qualified that by saying that there is already so much vehicle automation happening in California it would be hard to totally pull the plug at this point.
Nevada, Michigan, and Pennsylvania are states that have legalized or are likely to legalize full autonomy early on and take themselves out of the running, says Guerra. Along with Florida, Tennessee, and Arizona, these are the states are where most autonomous testing is happening, and have passed legislation to make testing and using autonomous cars simple.
"There's a real economic development component," Guerra says. "As one state gets more restrictive, another state will kind of say: Hey, you should come do testing in our state." This economic maneuvering makes the outcome hard to predict.
"Or maybe I could say something like it will be Washington, D.C. or Puerto Rico," Guerra says with very dry humor, "because they'll be new states at that time. And that's an interesting answer in any case."
Washington, D.C. could be the last if it follows Puerto Rico in becoming a state, but it's already passed laws to allow some kinds of testing of autonomous cars — so Puerto Rico is the best bet right now.