Google, Uber, Ford, and Others Form Self-Driving Coalition to Fight Regulations
It's a who's-who group that will shape the future of America's roads.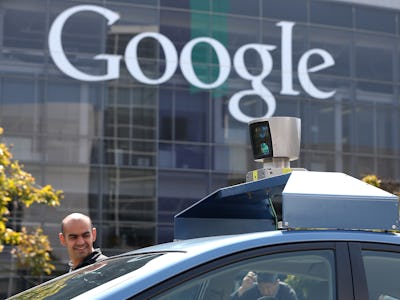 Getty
A new coalition to promote autonomous vehicles called the Self-Driving Coalition for Safer Streets was announced today, and the members list reads like a who's-who of both the digital and traditional car industry. What the coalition lacks in a catchy acronym potential, it makes up for in potential power to shape the future of American roads.
Google, Ford, Volvo, Uber, and Lyft are part of the coalition. The band of power players said in a statement that it will "work with lawmakers, regulators and the public to realize the safety and societal benefits of self-driving vehicles," according to Reuters.
On the government side, former National Highway Traffic Safety Administration head David Strickland was announced as the counsel and spokesman. Strickland's involvement (and potential for insider lobbying) is important, because as Google's Chris Urmson said in front of Congress back in March, foreign self-driving car companies are hot on the heels of American companies, and hands-off legislation will keep America's companies ahead.
Each of the companies (in Lyft's case through a GM partnership) have been working on autonomous technology independently. Their work has been successful on the development side — Ford predicts it will have driverless technology by 2020 and Google logs in 3 million autonomous virtual miles a day — but on the regulatory side, the states are a patchwork quilt of conflicting regulations.
With the way things are moving, it looks it'll be regulations that slow down the roll out of autonomous vehicles, not lack of technology.
A sign of what the coalition will be able to do was seen on March 15 at the congressional "Hands Off: The Future of Self-Driving Cars" hearing. Leaders from Google, GM, Delphi Automotive, and Lyft went in front of Congress as one to explain what needs to be done to make autonomy a reality. The majority of the congressmen present were more than a little confused, and wasted much of the hearing sorting out what was and was not included in autonomy.
Urmson, head of Google's self-driving initiative, stated at that meeting that the best action is to "take no action," in terms of government regulation. A group of high profile companies pushing Congress in that direction is much more powerful than companies working on their own.
Some of the things the coalition will likely push for include removing laws that require steering wheels and brakes in driverless cars and creating a blanket federal regulation that would keep certain states from building development-inhibiting laws.
Notably absent from the Self-Driving Coalition for Safer Streets are Tesla and Apple. Tesla's Autopilot is one of the most advanced self-driving technologies currently on the road, and Apple is expected to enter the burgeoning autonomous vehicle market, though its rumored car project, believed to be called Titan, is still under wraps.
The announcement of the coalition's formation comes one day before the National Highway Traffic Safety Administration's second public forum on self-driving car guidelines and a month before NHTSA plans to release self-driving policy guidelines to states and companies.
We already know how powerful each of these companies are on their own, so you can bet the Self-Driving Coalition for Safer Streets will be a major power player in shaping how the country moves.