Why Laverne Cox Told People to Google Gavin Grimm at the Grammys
Activism starts with a Google search.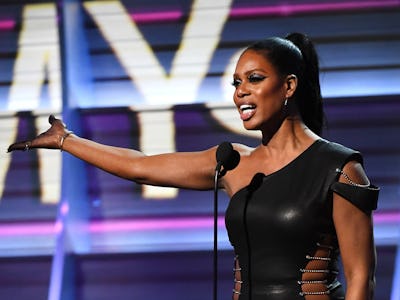 Getty Images / Kevork Djansezian
Before actress Laverne Cox introduced Lady Gaga and Metallica for their fiery performance at the Grammys (although she forgot to mention Metallica), the Orange Is the New Black star told viewers to "Google Gavin Grimm."
Gavin Grimm is a student at a Virginia high school. He's also at the center of a major case headed for the Supreme Court — one that could have major implications for transgender rights.
"If you told me two years ago that the Supreme Court was going to have to approve whether I could use the school restroom, I would have thought you were joking," Grimm wrote in an op-ed in The Washington Post last year. As Grimm explains, he came out as transgender before starting his sophomore year at Gloucester High School in 2014. Following a transphobic outcry from parents and more conservative community members, the school board passed a new policy forbidding Grimm and other students with "gender identity issues" from using the restroom of the gender they self-identify with.
A U.S. District Court ruling overruled the board's policy, but their ruling was stayed by the Supreme Court, which has since agreed to take on the case. This means that, until the Court hears the case in March, the policy is still in effect. The Supreme Court's ruling, however, will most likely set a nationwide precedent.
"I did not choose to announce to the news media that I am transgender. My school board made that decision for me," Grimm writes in the Post op-ed. "But now that I am visible, I want to use my position to help the country see transgender people like me as real people just living our lives. We are not perverse. We are not broken. We are not sick. We are not freaks. We cannot change who we are. Our gender identities are as innate as anyone else's."
Cox, a high-profile transgender actress and activist herself, wanted to bring attention to Grimm's upcoming case, and used her appearance on the Grammy's stage to urge viewers to #StandWithGavin.
Activism shouldn't end with a Google search — that's barely the start. But, it is a start, and Cox's shout-out almost certainly helped inform viewers and might stir up a groundswell of support as his Supreme Court hearing approaches.