Transgender Americans Spoke Up with #TransNeeds, Here's What They Said
Current data on transgender Americans is sparse, so they took to Twitter
by Sam Blum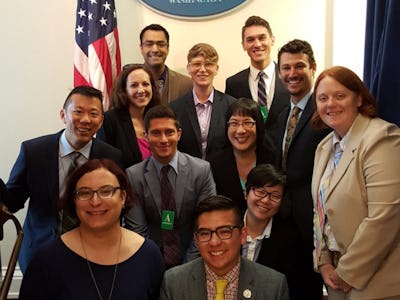 #transneeds
In the future, the federal government may collect census-style data on transgender Americans to better serve that population, but until then, a White House-backed group has taken matters into its own hands.
Called #TransNeeds and formed in August at the White House's LGBTQ Tech & Innovation Summit, the volunteer group, comprised of LGBT technology experts and professionals, went to work on Twitter and used traditional SMS texting to conduct a "listening campaign" to identify needs of trans Americans — and report back to the White House. The project was led by Elaine Kamlley of 18F, a government digital consultancy.
Today, during a "We The Geeks" hangout — part of a series to "highlight the future of science, technology, and innovation in America through conversations with Administration officials and private-sector contributors" — the group shared its findings.
Ina Fried, a member of the #TransNeeds project, presented the results of the social media endeavor on a panel live-streamed on the White House YouTube channel.
After receiving more than 12,000 tweets describing discriminatory barriers, the results of the #TransNeeds survey look like this:
Fried laid bear the rationale behind her group's formation and the social stir prompted by the campaign.
"This lack of data" was a founding principal for Fried, who said that her group "decided that a Twitter social media listening campaign was the best way to go," to accurately frame the lived experience of trans individuals in an honest way.
The group also included an SMS function through a toll-free number as part of the project, so interested parties could chime in via text. "We wouldn't be getting much from the trans community if we limited it to people with proper social media access," Fried said.
According to materials released by #TransNeeds today, the group met with White House Chief Data Scientist DJ Patil at the LGBTQ Tech and Innovation Summit in August and carved out its strategy then.
The group hopes to convene in the near future, and lobby for tangible policy solutions based on the data it found.
"We're going to do a written report that shares what we learned, shares our story, talks about some of the opportunities for more data and makes some recommendations for some more policy changes," Fried said.
"We were able to do a ton with a dozen volunteers and no budget, so it's amazing to think what can be done with some staff and some actual budget."