How Netflix Shows Are Leading Hollywood's Diversity Charge
But like '90s-era Fox, will the trend survive its success?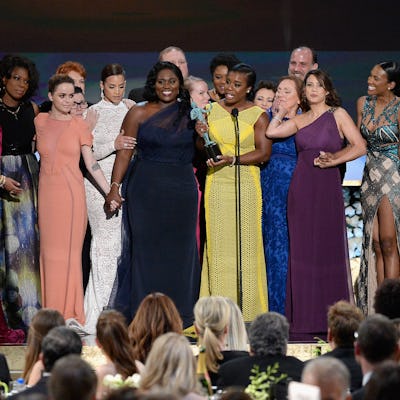 Getty Images
As mainstream Hollywood continues to struggle with its diversity problem, Netflix has become the unlikely architect for a sorely needed solution. As the streaming content giant strives to become a legitimate production company, it is not so quietly putting together a portfolio of programming that includes a wide array of talent across lines of race, ethnicity, and gender.
If this is what it takes to blow up segregation-era Hollywood, then bring it on.
Original Netflix TV content like Narcos, Marco Polo, Aziz Ansari's Master of None, and the critically acclaimed Orange Is the New Black have been rightly lauded as great TV, and for featuring some of the most diverse casting in recent memory. As Netflix has turned its sights toward becoming a full-fledged movie studio, it chose to go with the war tale Beasts of No Nation as its first theatrical film release.
It seems a bit silly that in 2016 we still feel the need to applaud studios for casting an actual trans women to play a trans woman, for greenlighting a romantic sitcom starring a comedian of South Asian descent, or for putting the backs into marketing a movie about West African child soldiers. Yet even as Hollywood comes under fire for questionable casting, mainstream studios continue to produce whitewashed blockbusters like Gods of Egypt, casting Christian Bale as Moses, Rooney Mara as Tiger Lily, Gerard Butler as Egyptian deity Set. By these standards, Netflix feels sent from a future where studio heads have actually skimmed the Census.
That isn't to say Netflix hasn't had its fair share of stumbles: The Adam Sandler western The Ridiculous Six was deemed so offensive that Native American cast and crew walked off the set in protest. And though Netflix has publicly committed to diversity, a woman of color has yet to direct a single episode of any Netflix series.
Looking to the future, it will be interesting to see if Netflix continues its push for diversity as both its brand and its budget expand. Back in the 1990s, Fox found itself in a similar situation as it fought for legitimacy as the "fourth" broadcast network. Lacking the budget and prestige of the big three, Fox executives instead focused on creating "urban" comedies and dramas that NBC, CBS, and ABC dared not air.
In hindsight, the Fox model looks like a brilliant growth strategy. As In Living Color creator Keenan Ivory Wayans once said, "Fox changed the course of black television unintentionally. They didn't go out to make black shows, they went out to make alternative programming." Ultimately, the formula was a success: Buying shows that other networks wouldn't touch and casting minority actors and actresses struggling to find work gave Fox a week's worth of programming for pennies on the dollar.
Shows like In Living Color, New York Undercover, Roc, Martin, and Living Single performed well with black and Latino audiences, yet failed to find much "crossover" success. Yet, as they made money, they legitimized Fox as a "real" TV network, right up until Fox moved on to greener whiter pastures. By 2000, the network that had been lauded for revolutionizing black TV only a few years earlier was found by a Screen Actor's Guild report to be the whitest network on television.
The good news for the pro-diversity crowd is that, unlike the Fox shows of the 1990s, Netflix originals like Orange Is the New Black have found both critical and crossover success. OITNB remains one of the most widely-viewed programs in the history of the streaming service, and consistently takes home trophies at the Emmys, Critics Choice, and SAG Awards. It has, in the process, turned cast members Uzo Aduba, Laverne Cox, and Dascha Polanco into bona fide stars. Meanwhile, the first season of Master of None took home the Critics' Choice Television Award for Best Comedy Series. And though Beasts of No Nation was snubbed by the Oscars, the film garnered SAG, BAFTA, and Golden Globe nominations, including an Outstanding Performance by a Male Actor in a Supporting Role trophy for Idris Elba.
Like Fox in the 1990s, Netflix has turned "diversity" into a winning formula, but this time, it looks to be a strategy that will have some longevity. While Hollywood is still full of pledges and apologies, Netflix is proving in practice what studies have shown for years: [representation matters] (http://www.hollywoodreporter.com/news/diverse-casts-deliver-higher-ratings-777428). Audiences of all stripes want a variety of stories told by a diverse collection of people. Netflix is figuring it out. Hopefully, Hollywood will follow suit.