The Oscars Just Announced Their Own Irrelevance
A statement by AMPAS president Cheryl Boone Isaacs basically rendered this year's awards pointless.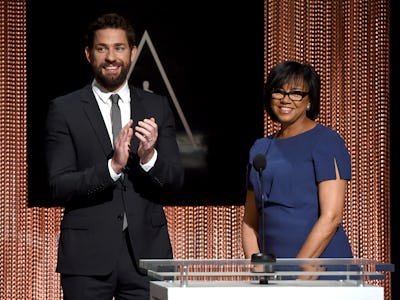 Getty Images
Soon after the announcements of this year's Oscar nominees a single damning fact became clear: the honorees were overwhelmingly … pale. Yet that's nothing terribly new for the Oscars. The cliché that the members of the supposedly diverse Academy of Motion Picture Arts and Sciences (the organization that gives out the awards) are all 70-year-old white men has been the butt of many post-nomination announcement jokes, but last week it got even less funny. The nominations caused an uproar that prompted the Academy's president, Cheryl Boone Isaacs (who is African-American), to release a statement about expanding the Academy's membership to be more inclusive and diverse (http://www.oscars.org/news/statement-academy-president-cheryl-boone-isaacs). Until real change to represent all genders, races, ethnicities, and sexual orientations is made, Isaacs' statement proves that the Oscars in their current state are a relic, wholly worthy of ignoring.
It came as a sad surprise that all 20 nominees for acting awards were white (the first time since 1997 and 1998 only white performers were nominated in consecutive years) and that films with black or minority themes were overlooked for the Best Picture category entirely. Hugely successful movies about black lives like Creed and Straight Outta Compton earned nominations only for their white screenwriters ("Compton") and white co-star (Sylvester Stallone in "Creed"). The black directors for each movie were also shut out. The shock turned into resignation when the #OscarSoWhite began spreading through Twitter and filmmakers like Spike Lee and Jada Pinkett Smith opted to protest the ceremony by not attending.
A 2012 investigation by the Los Angeles Times found that the Academy at the time was as old, male, and white as many suspected, which is probably why a 2014 Academy initiative sought to diversify its ranks by pulling in new members like Lupita Nyong'o, Chris Rock , Barkhad Abdi, Bradford Young, John Ridley, Gina Prince-Bythewood; and younger, hipper members like Michael Fassbender, Mark Duplass and Jay Duplass, Pharrell Williams, and Megan Ellison.
Two years later, and nothing changed, or at least so said Isaacs' statement. "The change is not coming as fast as we would like," she said. "We need to do more, and better and more quickly."
Many have argued in the days since the nominations just why this is. Some said the studios behind movies like Creed and Straight Outta Compton simply didn't launch effective campaigns to get their contenders enough notice. Others say a convoluted voting system hurt the minority-focused films. The other, broader theory is that Hollywood on the whole is run by old, white men, and the nominations merely reflect the underlying industry.
The excuses and bureaucratic mealy-mouthing obscure the bigger point: There were some really popular, well-made films that got shafted in favor of lesser, whiter movies. Can anyone say with a straight face that Brooklyn was more worthy of a Best Picture nomination than Creed? Or that Ava Duvernay didn't belong among the five best directors last year for her work on Selma?
"I am both heartbroken and frustrated about the lack of inclusion. This is a difficult but important conversation, and it's time for big changes," Isaacs wrote in her statement. "The Academy is taking dramatic steps to alter the makeup of our membership. In the coming days and weeks we will conduct a review of our membership recruitment in order to bring about much-needed diversity in our 2016 class and beyond." Just what kind of steps and how fast they'll be implemented remains to be seen, but one thing is for certain: The unprecedented statement by the Academy president confirms that the current system is broken.
This isn't to belittle the achievements of each nominee. Mad Max: Fury Road is awesome and George Miller definitely deserves his nod for his absolutely bonkers action movie. But in any year when #OscarSoWhite trends, the winners have to know they're up against thinned competition, like Major League Baseball pre-Jackie Robinson. Put an asterisk next to these awards. This is segregation-era bullshit we're witnessing in 2016.
Awards are and have always been hopelessly subjective. But in the context of this year's award's ceremony as the industry's top honor, they would be nothing short of a sham. As a whole the nominees are not a fair assessment of the best motion pictures of the year insofar as Isaacs acknowledged that fact with her own statement. The Best Picture this year won't really be the Best Picture, the Best Actor and Actress won't really be the best, and so on. The list of "winners" announced on the Oscars telecast on February 28 should be taken with a great big grain of pure white salt.