Creator of Rosie O'Donnell-Steve Bannon Image: "People Need Levity"
Johnny Smith is a pro at collage art.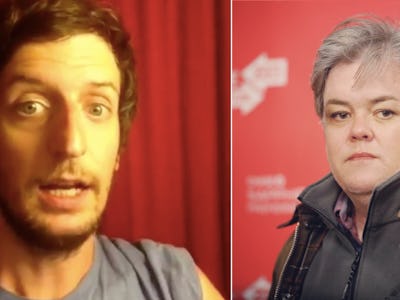 Instagram
Steve Bannon might be helping run the show in Trump's administration, but Rosie O'Donnell is flat-out stealing it. Earlier this week, O'Donnell expressed interest in playing the White House adviser after Melissa McCarthy stunned audiences with her hilarious portrayal of press secretary Sean Spicer. Fans rallied behind O'Donnell, insisting she impersonate Bannon in an upcoming Saturday Night Live sketch. To help prove that the actress could really pull off the role, actor and image manipulator Johnny Smith whipped up a photo mashup of O'Donnell's face on Bannon's body. It was a hit.
O'Donnell also liked it. On Thursday, she changed her Twitter avatar to Smith's creation. It first caught her attention after people began tweeting the image to her, and people are absolutely loving the striking resemblance.
"I had read that Trump's administration was upset that a woman was portraying them," Smith tells Inverse. (It's true). "And I had also seen that Rosie O'Donnell was into the idea, so I kind of just went with it. I was relieved she wasn't offended, that she was excited about it and wanted to share it."
Since O'Donnell updated her profile picture, there's been plenty of people loving the photo. It also comes after The Huffington Post suggested a slew of funny women to play the entire Trump administration since they were so upset about Spicer being depicted by McCarthy.
But there are some issues with O'Donnell playing Bannon.
"I was pretty fucking blown away by the reactions. I got a bunch of texts and emails and notifications, and I was just blown away," Smith said Friday. "A lot of people are feeling the weight of this election. I think people need levity. The response has been because people need to laugh, need to relieve this tension and stress."
Smith does plenty of other image manipulations and posts them regularly to his Instagram. He got into collage art about five years ago and now does it during his free time like when he's watching television. He also gave people an idea of how it would look like if Ellen DeGeneres played Vice President Mike Pence.
It's unclear whether SNL will go through with portraying the rest of Trump's cabinet with simply female performers. However, it is worth noting that the show is enjoying its highest ratings in over 20 years — it's been going up ever since Trump defeated Hillary Clinton in the election. Variety postulates that viewership from last Saturday was so high because of the buzz surrounding McCarthy's Spicer impression.
This isn't the first time that ~ The Internet ~ has taken the liberty of poking fun at Bannon. Earlier this month, people were comparing the ex-Breitbart editor to a long list of disgusting things, the best being Michael Shannon after a diet of only cigarettes.
Meanwhile, it looks like O'Donnell's incredibly thankful for Smith's photo editing skills.