4 Reasons Not to Leave Your Couch This Weekend
Valentine's Day is a very polarizing time.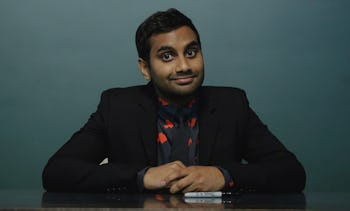 New Yorker
Most people's feelings about Valentine's Day and the time leading up to it are black and white: Either you're the human embodiment of the heart eyes emoji or you couldn't care less. And, yes, some people get actively angry about the lovey-dovey day. So, instead of polarizing yourself, maybe watch some things to get you out of your funk.
Below is a short but relevant list of the best streamable content to help you think a little differently about Valentine's Day or just forget it entirely. Two good ways to do that just are to lose yourself to a hysterical comedy or fall prey to delightful terror while watching a horror flick. We've got you covered with some quality comedy and cheesy horror to help you out during the weekend leading up to Valentine's Day.
Whether you're by yourself, hanging out with friends, or chilling with your significant other, here's a list of four movies and TV shows to stay in and stream all Valentine's Day weekend.
4. Easy, Netflix
This anthology series from creator Joe Swanberg explores the lives of a cast of characters in Chicago who are trying to figure out this whole modern relationships thing.
The show focuses on the "modern maze" of love, sex, technology, culture, and how they all overlap and features Orlando Bloom, Malin Akerman, Jake Johnson, Marc Maron, Dave Franco, Hannibal Buress, Emily Ratajkowski, Michael Chernus, Gugu Mbatha-Raw, and more.
3. Gremlins, Amazon Prime
Why the hell not, right? 1984's horror comedy classic, Gremlins, is the kind weird thing some people need around Valentine's Day.
The sometimes cuddly, always terrifying creatures known only as "Gremlins" descend upon an all-American town and wreak havoc on its citizens, much like how you might want to wreak havoc on all happy couples this time of year.
2. Michael Bolton's Big, Sexy Valentine's Day Special, Netflix
Michael Bolton's weird, wonderful, cameo-filled Valentine's Day special is presented by the Lonely Island and Comedy Bang! Bang!
Apparently, Santa has told Michael Bolton that he needs 75,000 new babies to meet a toy supply for this next Christmas. And what does a celebrity do when they're trying to raise awareness for a cause? Hold a telethon with all their famous friends, of course.
1. Aziz Ansari: Live at Madison Square Garden, Netflix
Former Parks and Recreation star and creator of Master of None, Aziz Ansari, currently has the No. 1 stand-up act about modern relationships and dating. That's just a fact.
Aziz Ansari: Live at Madison Square Garden is essentially a live version of his book, Modern Romance, which explores dating in the 21st Century with the help of a professor of sociology at New York University, Eric Klinenberg. Relatable and hilarious, Aziz is sure to put a smile on your face this Valentine's Day weekend.