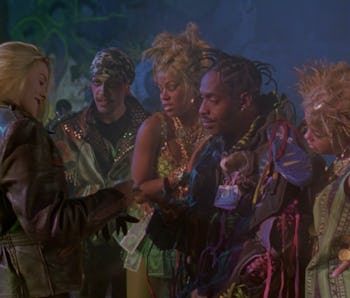 Entertainment
Lost 'Batman' Movie Would've Paired Coolio's Scarecrow With Harley
Warner Bros.
Joel Schumacher's Batman & Robin flopped so hard when it came out in 1997 that the planned sequel, Batman Unchained, was canned. But rapper Coolio, who had a cameo in the infamous movie alongside Alicia Silverstone's Batgirl, recently opened up to a local news outlet in Texas that he was going to play the villain Scarecrow and that he would have teamed up with the now ubiquitous Harley Quinn.
After performing at a local bar and grill in north Texas, Coolio sat down with the Burleston Star for an on-camera interview where he talked about his involvement in Batman & Robin. "The only reason I did that part was because they promised me the villain part in the following Batman, which they didn't do because, Joel Schumacher, they fired him," Coolio said. "Me and him didn't get along that great anyway." Coolio then confirmed that he would have played Scarecrow, which supports earlier accounts from screenwriter Mark Protosevich.
Protosevich said his Scarecrow was relatively similar to Jonathan Crane from the comics, who had a grudge against Bruce Wayne. Meanwhile, Harley Quinn would have been very different. This version of her would have been the Joker's daughter, out get revenge on Batman for the demise of her dear old dad.
"Joel wanted to tie up all of the films," said Protosevich in a 2015 interview. "The Tim Burton films and his films, building up to this moment." That "moment" would have been Batman going insane in Arkham Asylum and confronting all of his previous villains from the series, including Catwoman (Michelle Pfeiffer) and the Penguin (Danny Devito) from Batman Returns and Two-Face (Tommy Lee Jones), and the Riddler (Jim Carrey) from Batman Forever. It would all lead up to a final confrontation with Jack Nicholson's Joker from Tim Burton's 1989 Batman.
Casting for the film never started, but Protosevich said Courtney Love took meetings with him because she was interested in getting her acting career started. "I think she had heard about the possibility of Harley Quinn being in the new Batman and was thinking she would be good for it," said Protosevich. "It was certainly one of the better lunches I've ever had in my career in show business."
Meanwhile, Schumacher wanted Nic Cage instead of Coolio for Scarecrow but said the studio wasn't willing to explore a dark tone for its Batman series at the time. My, how things change.
See the Coolio interview below: