Batman v Superman is a "Numbing Smash-and-Bash Orgy of CGI Mayhem"
Heavy on pow boom wow, light on pretty much everything else.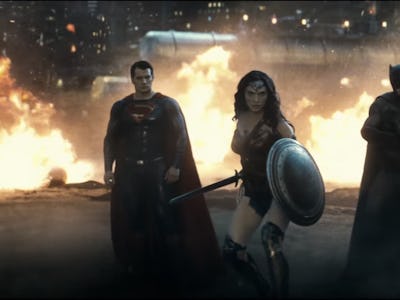 YouTube/ Warner Bros. Pictures
DC Comics' massively-hyped Batman v Superman: Dawn of Justice blows open the doors of Warner Brother's DC Extended Universe saga this weekend, and the reviews are flooding in. Unfortunately for director Zac Snyder, the critics aren't calling it an overwhelming success — since the 6 p.m. review embargo was lifted today, the film is hovering at 41 percent on Rotten Tomatoes.
Nearly all of the major reviews used some adjective meaning "really big," throwing out phrases like "sprawling in scope," and "physically gigantic," but few said there was much narrative weight to the film.
Entertainment Weekly asked viewers if the latest epic on-screen punch up was what all the superhero genre meant anymore.
"Dawn of Justice is big, all right. The brawls are busy and brutal, the story is sprawling in scope, the effects are an embarrassment of pixels, and the performances (well, some of them, at least) couldn't be broader. If it's just size you're after, you won't be disappointed. But at this point in Hollywood's superhero cycle, is that really enough? … Modulation, economy, and nuance may not be his [director Zack Snyder's] thing, but at least his movies always look like a billion bucks. And this one does too."
EW gave the film a C+, eventually dubbing it "another numbing smash-and-bash orgy of CGI mayhem with an ending that leaves the door open wide enough to justify the next 10 installments."
Still, if Ben Affleck's Batman was a concern, don't worry: the critics say Batfleck is a hit. Variety's review said Affleck's Bruce Wayne/ Dark Knight was "a winningly cranky, charismatic presence even when out of costume," and "the most morally ambiguous iteration of the character yet seen on film," while smacking, shooting, and sometimes straight up murdering baddies left and right.
The Wrap's review did find one spark of life in the "series of big things bashing into other big things, which is what Snyder and writers Chris Terrio and David S. Goyer mistake for storytelling," — Gal Gadot's Wonder Woman (aka the mysterious Ms. Prince).
Thank goodness Ms. Prince turns out to be Wonder Woman, who injects some real vitality into the sludgy superhero sameness. It's also worth nothing that she's the one female character, with the possible exception of Soledad O'Brien playing herself, who isn't used in the film as a pawn or hostage, which is about all we get from Amy Adams' Lois Lane (who's apparently as addicted to stilettos as Bryce Dallas Howard in "Jurassic World"), Diane Lane's Martha Kent or Holly Hunter's all-too-brief turn as a Kentucky senator who squares off against Luthor.
So if you're just excited to see an actual female superhero, Batman v Superman might scratch the right itches. But otherwise, most critics agree that it's a shiny, flashy, explosive filler movie meant to launch a whole line of money-making sequels.