Elon Musk Fires Back Against Alleged Poor Working Conditions at Tesla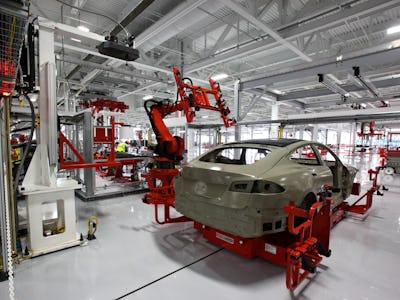 Flickr / jurvetson
Tesla CEO Elon Musk says his electric car company became the victim of an elaborate ploy by the United Auto Workers Union, after an alleged employee's Medium post went viral on Thursday.
Tesla may be one of the leaders in automation, but the company still employs plenty of real people to work in a Tesla factory assembling electric cars. A man claiming to be one of those employees came forward on Thursday alleging that Tesla workers are constantly getting injured on the job due to poorly designed machinery. He also says they're drastically underpaid compared to auto workers at other companies, but Tesla employees live in fear of reprisal from management.
"I often feel like I am working for a company of the future under working conditions of the past," Jose Moran, who claims to be a production specialist at Tesla, wrote in a Medium post. Moran says he has worked for Tesla for more than four years, and that he and his 5,000 alleged fellow employees work more than 40 hours a week (including "excessive mandatory overtime").
Musk, however, says the whole thing is bunk.
"Our understanding is that this guy [Moran] was paid by the UAW to join Tesla and agitate for a union. He doesn't really work for us, he works for the UAW," Musk told Gizmodo via direct message on Twitter.
But Musk's response was vague as to whether or not Moran actually works for Tesla. LinkedIn and other social media sites don't have a record of his employment at the company. Musk told Gizmodo that "there is sometimes mandatory overtime if we are trying to make up for a production stoppage, but it is dropping almost every week," and said that the company was "union neutral."
Moran also criticized the state of the manufacturing equipment in Tesla's Fremont facility, which he said led to preventable injuries.
"Machinery is often not ergonomically compatible with our bodies. There is too much twisting and turning and extra physical movement to do jobs that could be simplified if workers' input were welcomed," Moran explained. "Add a shortage of manpower and a constant push to work faster to meet production goals, and injuries are bound to happen."
Moran recalled an incident a few months ago when six members of his eight-man team were all on injury leave at the same time.
Tesla is investing heavily in further automating its manufacturing process, so it's unclear what their response to Moran's claims that their current equipment is poorly designed will be.
According to Moran's post, Tesla also underpays its workers, especially since the plant is located in the Bay Area's Alameda county, where the average living wage is more than $28 an hour. Moran says that Tesla workers with his title make between $17 and $21 an hour. A quick search on job sites seems to support Moran's numbers. However, Moran claims that the average auto worker makes $25.58 per hour, and lives in a cheaper part of the country. While the latter point may be true, according to Payscale.com, the average rate is closer to $15 per hour, or $39,305 per year for an assembly line worker in the automotive business.
Moran claims that other employees share his frustrations, but are afraid of speaking out about the poorly designed machinery because they don't want to be labeled "a complainer."
Last month, five members of California's State Assembly penned a letter to Tesla about many of these same concerns — especially a new confidentiality policy, which Moran also cites as a problem.
"As California's largest manufacturing employer and a company that has created thousands of quality jobs here in the Bay Area, this is not the first time we have been the target of a professional union organizing effort such as this," a Tesla spokesperson told Inverse in a statement. "The safety and job satisfaction of our employees here at Tesla has always been extremely important to us. We have a long history of engaging directly with our employees on the issues that matter to them, and we will continue to do so because it's the right thing to do."
Inverse reached out to the United Automobile Association for comment on Moran's post and Musk's allegations, and will update this article when we hear back.
"Tesla isn't a startup anymore. It's here to stay," Moran's Medium post concludes. "Workers are ready to help make the company more successful and a better place to work. Just as CEO Elon Musk is a respected champion for green energy and innovation, I hope he can also become a champion for his employees."
Musk, however, told Gizmodo that Moran's post was "morally outrageous," and blasted the UAW for sinking NUMMI, the company that previously used the facility in Fremont that Tesla now uses.
"Frankly, I find this attack to be morally outrageous. Tesla is the last car company left in California, because costs are so high," Musk wrote. "The UAW killed NUMMI and abandoned the workers at our Fremont plant in 2010. They have no leg to stand on."
This article's headline and content have been updated to reflect Elon Musk's response to Gizmodo.**