SpaceX Is Returning to Its Hectic Launch Schedule Next Week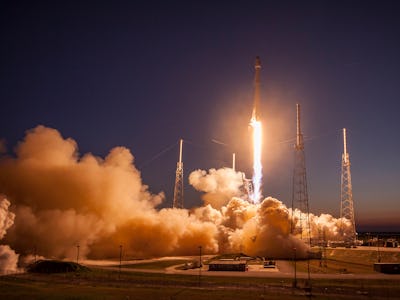 Getty Images / NASA
SpaceX is back in the game, and it's not going to waste any more time getting as many rockets in the air as possible. In an interview with Reuters on Monday, SpaceX President Gwynne Shotwell said Elon Musk's spaceflight company plans to launch a Falcon 9 rocket every two to three weeks, beginning with the February 14th launch from the company's new launchpad at Kennedy Space Center in Florida.
The company always planned to launch at that ambitious pace, but a firey accident on the launch pad in September set the company months behind. After a few weather delays, the company successfully launched its first rocket since the accident in January. SpaceX hopes the accelerated schedule will help it clear the 70-mission, $10 billion backlog of jobs left in limbo after the accident. The new $100-million launch pad will help as well, as SpaceX's original pad at Cape Canaveral is still undergoing repairs.
Shotwell also cleared up the company's response to reports last week that congressional investigators were concerned about a minor flaw in some of the Falcon 9 rocket engines. The flaw caused cracks to appear on the rocket engine's turbopumps — while the cracks themselves were not immediately harmful (and were unconnected to the accident in September), the company and the government agencies it works with were concerned about the problem.
"For us, the concern was not the cracks, but do they grow over time? Would these cracks cause a flight failure?" Shotwell told Reuters. I think NASA is used to engines that aren't quite as robust, so they just don't want any cracks at all in the turbo machinery."
SpaceX discovered the cracks way back in 2015, and will do some more redesigns to the system before the Falcon 9 starts to take astronauts to and from the ISS in late 2018.
In practical terms, this basically means that the company will be putting on a show for spaceflight fans almost twice a month. At that pace, the company will surely be re-using some of the Falcon 9 boosters it lands. It recently successfully tested a used Falcon 9 at its facility in McGregor, Texas, so it looks to be on the right track for keeping its Falcons going up and down in perpetuity.