The Confirmation of Betsy DeVos Causes Student Walkouts
Students used their nuclear option.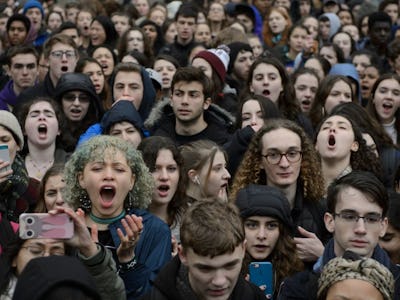 When Vice President Mike Pence made a tie-breaking vote Tuesday that confirmed Betsy DeVos as the new Secretary of Education — after over a month of political controversy — students in public schools and universities across the country began to mobilize in the most effective way: walking out of school.
In the hours following the confirmation of DeVos, one major student protest has already turned heads in New York City, with others being actively planned through social media with student and teacher organizers alike.
Hundreds of public high school students gathered in Manhattan's Foley Square in an effort organized by high school student and known activist Hebh Jamal, a Palestinian-American student who has already organized protests in the city following the election and the seven-country Muslim travel ban enforced by a President Donald Trump executive order just over a week ago.
Students actively streamed their efforts over Facebook, Twitter and Periscope for the several hours that the protest took place. Jamal's initiative seems to have struck a chord with the internet-at-large and is well on her way to inspiring other public education institutions to do the same in the coming days. The anger at a DeVos appointment has severe segregation implications, too.
Prior to DeVos's appointment, there had been protests taking place around the controversial figure since the weeks leading up to President Trump's inauguration with major demonstrations with parents, teachers, and students like those shown in both Los Angeles and Portland.
Students at California State University: Los Angeles say protests were planned at the publicly funded school, which has a number of satellite locations across the state, to speak out on their dissatisfaction with DeVos along with a more specific issue with public education in the higher learning sector: the cost of a college education. The Los Angeles Times reported that protests had been planned for this Tuesday, before DeVos's appointment was even official, in defiance of California Governor Jerry Brown's recent budget proposal, which would hike up state university prices for students by five percent, leaving the average cost of a public education more than twice of what it cost ten years ago.
One CSULA student said that her professor canceled class later in the day for students to attend the walkout demonstration.
"It's for a couple different things now," commented Andrew T., a sophomore en route to sociology class told Inverse. "A lot of us couldn't afford college if CSU wasn't here, but now they're making it hard for us to do even that. My older brother paid way less than me to do the same thing I'm trying to do now."
"And like, not that there's any good timing for DeVos to be in charge of everything, but now we're protesting that, too," said Cassandra G., a junior.
"We don't even know what to protest anymore," replied Andrew. "Everything, kind of."
Twitter is rumbling with students across the country, organizing and speaking their opinions on DeVos in no uncertain terms, but formal plans for further protests on the scale of that in New York on Tuesday haven't yet materialized. The confirmation of DeVos has compounded student frustrations on top of continuing demonstrations in protest of Trump's Muslim travel ban. In the UK, the National Union of Students have plans for a walkout of their own at universities nationwide scheduled for February 20, the same day that President Trump is slated to make a visit to the country. Mostafa Rajaai of the Union of Students says that their walkout is in protest of Prime Minister Theresa May's welcoming Trump's state visit in spite of the travel ban he enforced.
"It has become more important than ever before for us to unite in showing opposition to racism, xenophobia, and hatred and to stand in solidarity with all those who have been feeling the brunt of state-sponsored racism across the UK and beyond," Rajaai told Huffpost UK.