'Attack on Titan' Season 2 Premiere Date Announced
Cue the panicked rage sweats.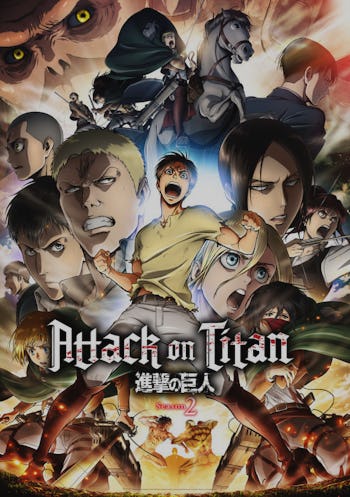 Funimation
We already knew that Attack on Titan Season 2 was coming in 2017, and a relatively recent teaser trailer confirmed as much — but today, Funimation confirmed in a blog post that the simulcast of Attack on Titan Season 2 begins on April 1, 2017.
The post also included an official synopsis for Season 2:
Eren Jaeger swore to wipe out every last Titan, but in a battle for his life he wound up becoming the thing he hates most. With his new powers, he fights for humanity's freedom facing the monsters that threaten his home. After a bittersweet victory against the Female Titan, Eren finds no time to rest — a horde of Titans is approaching Wall Rose and the battle for humanity continues!
Accompanying all of this hotly anticipated information also comes a promotional poster for the show's second season, which seems to indicate that the next arc in the story will likely follow that of the manga source material:
We can see Eren in Titan form squaring off against the Armored Titan in the bottom, and some newly featured characters in the poster that will increase in visibility as deeper conspiracies are exposed involving the government and the Titans, both friendly and otherwise, that make life so damn hazardous for everyone.
Look for the Season 2 simulcast of Attack on Titan on April 1 on Funimation, though it's likely to stream elsewhere as well.