The Only 'Star Wars' Canon You Can Watch Online is Leaving Netflix in March
'Star Wars' canon is quickly leaving streaming U.S. consumers behind.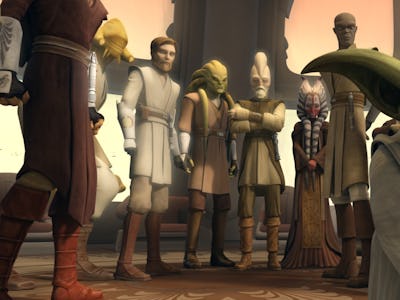 Clone Wars Wiki
Hours of easily accessible Star Wars canon are about to disappear from Netflix. Star Wars: The Clone Wars will be leaving Netflix on March 7, giving you a month to binge all six seasons and brush up on your canon knowledge. The series's prequel film of the same name will be staying put for the time being, so at least you'll still be able to watch Anakin meet Ahsoka for the first time and begin to grow as a person (before, y'know, going full Vader).
Netflix acquired the rights to stream Clone Wars in 2014 — including the previously unaired Season 6 — two years after the series was canceled on Cartoon Network. Star Wars fans rejoiced. But the impending disappearance of Clone Wars from Netflix is indicative of a complicated web of streaming and usage rights stemming from Disney's purchase of Lucasfilm for a casual $4 billion back in 2012.
The Clone Wars collection is currently the only Star Wars canon currently available to stream on U.S. Netflix. Despite Netflix having struck up a sweet deal with Disney just months after it bought Lucasfilm — one that gave Netflix exclusive streaming rights to Disney-made films — a grave error was made: U.S. Netflix has the exclusive streaming rights to all Disney-made films with theatrical releases of 2016 or later. So The Force Awakens belongs to Starz, the TV network, and the rest of the film saga's cable rights sit with Turner.
Even Netflix Canada is supposedly losing Clone Wars from its roster, even though The Force Awakens is currently available up north. Easily streamable Star Wars content is being struck down faster than Anakin took out the younglings at the Jedi Temple.
Sure, you'll still be able to buy Clone Wars on Blu-Ray or iTunes, but it won't be the same as binge-watching hours of Ahsoka sassing Anakin, Obi-Wan getting flustered over the Duchess Satine, or Darth Maul generally being alive and outfitted with spidery cybernetic legs. So, get watching!