Will the Complete 'Star Wars' Saga Ever Make It to Netflix?
It's time for one of the most popular movie franchises in the world to be made available on the most popular streaming service in the world.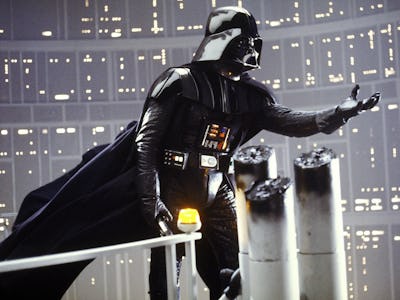 StarWars.com
Star Wars is like the Holy Grail of the home video market, a self-perpetuating cash cow with an endlessly devoted multi-generational fanbase who will dutifully fork over cash every time a new edition of the franchise is released. And as technology changes, so does Star Wars, with updated visual effects, story tweaks, and new special features. And though the whole saga made its global digital debut in a lavish release eight months before the franchise was kickstarted again with The Force Awakens in 2015, it has yet to bow on streaming platforms like Netflix, where American consumers watch most movies. But now that the series is branching off into standalone films like Rogue One, perhaps that could all change soon.
In December 2012, Netflix signed a deal with Disney that guaranteed it exclusive streaming rights to films under its imposing entertainment umbrella. The deal was announced just two months after news broke that Disney had agreed to buy Lucasfilm for a whopping $4 billion to make more Star Wars movies. It would take four years for Netflix and its viewers to learn that they would start reaping the benefits of the deal — reportedly worth about $300 million in total — but it came with a disappointing caveat.
Netflix's U.S. rights in the deal were for Disney movies starting with 2016 theatrical releases only, which meant American streaming fanatics and fans who gave up on physical media wouldn't have access to Star Wars: The Force Awakens or the original and prequel trilogies on the streaming service. The exclusive streaming rights for The Force Awakens remains with TV network Starz and the entire saga's cable rights are with Turner. On the bright side, American subscribers will get to see Rogue One streaming exclusively on Netflix, though Netflix CCO Ted Sarandos hasn't said when it would happen.
So it's close but no cigar for the entire saga being immediately available to American Netflix subscribers, but it isn't worth counting it out entirely.
The Netflix-Disney deal was the first time a major studio went directly to online streaming for a post-theatrical release window on major blockbusters instead of going to a big-name, cash-friendly cable service. And in the four years since that deal, relations between the two companies have only gotten sweeter, with Netflix taking the reins on a handful of Disney-owned Marvel series like Daredevil, Jessica Jones, Luke Cage, and into the future with Iron Fist, The Punisher, and Defenders.
Plus, Netflix already carries the complete Star Wars: The Clone Wars animated series and the 2008 animated feature film, which means they're already well-versed in the broader official Star Wars canon.
Strangely enough we could look outside the U.S. for precedents. The complete Star Wars saga has joined Netflix's streaming ranks in select territories around the world where the streaming service is available. The platform's Canadian version made waves when it acquired the rights to stream the saga starting in August 2016, and other countries with their own Netflix hubs like Belgium and the Netherlands have followed suit.
Tech-savvy types could circumvent Netflix's geoblocking measures with a VPN to trick the streaming service into thinking you're in the countries with access to those films, but official channels for streaming the saga remains elusive for the American market. It's clear evidence of the fickle nature of increasingly intricate streaming deals. Luckily Netflix is pretty good at those, and the idea is that the cozy relationship between Disney and Netflix could potentially extend to the prequel and original trilogy once Lucasfilm deems them ready to be streamed stateside.
The biggest hiccup perhaps remains the original 1977 Star Wars film, whose rights are controlled by original studio Twentieth Century Fox in perpetuity, regardless of the 2012 Disney deal. Disney has to strike a special side agreement with Fox every time they want to release a big Star Wars package like they did for the digital release. It's possible that Disney and Fox can play nice, but haven't figured out how to include a third wheel like Netflix. Until then, fans can only hope that this argument will eventually be relegated to a long time ago in formats far, far more obsolete than physical media.