Why Netflix Will Only Stream 'Star Wars: The Force Awakens' in Canada
But 'Episode VIII' and 'Episode IX' could head to the American version of Netflix after next year.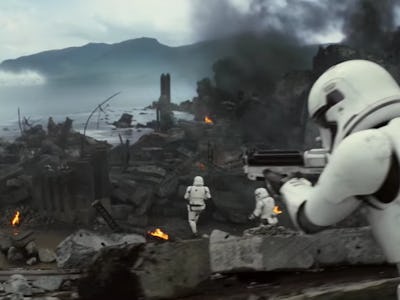 StarWars.com
If you didn't manage to get a ticket to the opening night of Star Wars: The Force Awakens, and you're the type who doesn't want to leave your house even though it'll probably play for months afterwards, you're in luck.
Well, you would be in luck if you live in Canada. Netflix reportedly will stream The Force Awakens for the great white north that will bring the inevitable blockbuster to Canadian subscribers eight months after the movie premieres in December.
Americans don't fare so well: The deal excludes the United States because of a cross-crossing of streaming deals made by Netflix, Disney, and premium cable channel Starz that leaves the U.S. out and Canada in.
In 2012, Netflix and Disney (which now owns the complete rights to all but one Star Wars movie) made a deal that would give the streaming service the exclusive streaming rights to the entire Disney library for the United States. The deal is set to go into effect on January 1, 2016 and only includes films released after that date. As of now, Disney is still under an agreement with Starz for the rights to their library stateside until the end of this year, which includes the rights to The Force Awakens.
However, Netflix Canada's deal with Disney boasts the foresight to check the calendar and see that potentially the biggest movie ever made is being released in 2015, and cut the deal to include Disney movies from 2015 onward. Not only will Netflix Canada get other Disney titles like Inside out and The Good Dinosaur because of the deal, but it also includes exclusive rights to The Force Awakens.
Americans who want to stream the new Star Wars movie better sign up for Starz, but that doesn't necessarily mean they won't be able to see the other Star Wars movies on Netflix in the future. Because the U.S. deal begins in 2016, that ostensibly means Rogue One, Episode VIII, and Episode IX (slated for release in 2016, 2017, and 2019 respectively) could show up on Netflix if you assume the deal lasts that long. Disney, Lucasfilm, and Netflix are currently in talks to bring The Empire Strikes Back, Return of the Jedi, and the prequel trilogy to the streaming service soon. The rights to the original 1977 film is owned by 21st Century Fox, so that still remains up in the air.
At least Americans may have access to some of the episodes in a galaxy far, far, away.