The 6 Best Political Podcasts for Both Experts and Beginners
Listen to these on your morning commute.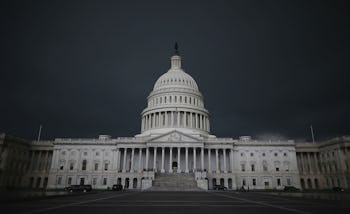 Getty Images / Mark Wilson
Given all the news — not to mention the fake news — making the rounds just as Donald Trump begins his presidency, it can get a little difficult for the layman to keep track of everything going on. For political junkies, on the other hand (or masochists, as one could rightly call them today), it can seem tough to find a reliable source of analysis and opinion. Podcasts can be a great resource for both groups. Offering a range of perspectives, podcasts supply information, context, and perspectives that could be difficult to find elsewhere.
Here are some of the best political podcasts for a Trump-filled 2017:
Produced by KCRW in Santa Monica, California, Left, Right, and Center functions pretty much the way its name suggests. Normally hosted by New York Times columnist Josh Barro (the center) and National Review editor Rich Lowry (the right), the weekly podcast features commentators from across the political spectrum for a substantive, if informal, discussion of the past week's developments. It's an accessible entry point into the political scene for those who perhaps don't follow things too closely but who would like to stay informed. Episodes usually clock in at about a half hour long, a runtime that's certainly palatable in one sitting.
It's a "no-bullshit conversation about politics," recently launched by Crooked Media. If you're one of the Obama supporters who has found themselves disillusioned after the 2016 election, it could be your political home away from home. Run by previous aides to President Obama — Jon Favreau, Dan Pfeiffer, Jon Lovett, and Tommy Vietor — Pod Save America is the saving grace for Democrats (or anyone, really) looking for something a little more lighthearted while also offering some grounded discussion about American politics under President Trump. Guests include comedians, activists, and politicians. Also worth checking out is its sister podcast, Pod Save the World, which deals more explicitly with foreign policy.
Hosted by Slate Editor-in-Chief Jacob Weisberg, the focus of this podcast is — surprise! — Donald Trump. Originally started during the election, Trumpcast's life was extended past November 8 after Trump beat Hillary Clinton. It's unabashedly tailored to the left and provides a clever foil to the steady stream of untruths flowing from the Trump White House. Trumpcast features expert guests with varied experiences, and also boasts of an exceptional Trump impersonator (John Di Domenico) reading Trump's tweets in all their petty glory. It's definitely on the playful side, as well, but still makes for some compelling analysis of Trump's policies, historical context, and egotistical personality. New episodes are released almost daily.
Anyone looking for good political breakdowns with mid-level intensity should head to NPR. The politics podcast features the network's reporters in candid conversation with each other about the day's political news. The rotating cast of reporters ensures exposure to a good range of viewpoints. In a way, the podcast almost feels like eavesdropping on the ground, but that feeling adds a much-needed layer of genuineness and personality to the show that makes it an easy listen and a no-brainer to follow for laymen and experts alike.
For new media and political fanatics, FiveThirtyEight has become a go-to source for polling and data interpretation. Nate Silver has himself become something of a celebrity in that vein. It's no surprise, then, that the politics podcast is of a similar caliber and complexity. While it's not for the faint of heart (AKA those with an aversion to excessive amounts of data) FiveThirtyEight Politics is an excellent source of information, interpretations of salient issues in politics, and predictions about what the future holds.
You may already know Dan Carlin for Hardcore History, his successful (and marathon-length) history podcast. Just as ear-worthy is his Common Sense podcast, where Carlin imparts his unique, "politically Martian" take on political developments. Common Sense, which shares its name with Thomas Paine's famous political treatise, is not for everyone. Carlin's discussion is heady, historical, couched in various political theories, and — above all — cynical. But for those junkies reaching for the strong stuff, there are few better places to go. Chances are, you won't agree with everything he has to say, but that's the point. Episodes vary greatly in length, from less than an hour to more than two, depending on the subject matter and if Carlin has a guest, so they're much more of a commitment. Luckily for your schedule, though, new episodes only come out about once a month or so. Expect broad, insightful, and rewarding commentary that may just have you thinking differently by each episode's end.