Fans Begging Ben Affleck to Hand 'The Batman' To Zack Snyder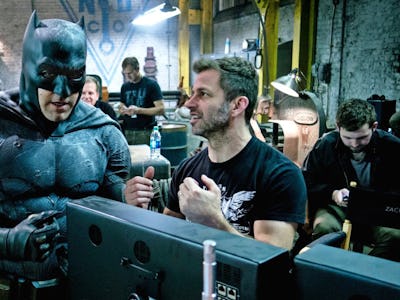 Story Shouter
Batfleck has straight-up had enough of your shit. After being harassed by DC fans for months, first over Batman v Superman's critical failure, and then because the internet watched the life drain out of him during BvS's press tour, Ben Affleck stepped down from directing the upcoming Batman solo film. No replacement has been announced yet, but DC fans have rallied behind an easy choice: Zack Snyder. How realistic is this request? Not very, for several reasons.
First, when Geoff Johns shifted his focus away from DC comics to the brand's film production branch, he and the other top creatives at DC began the long, slow process of sticking Snyder in a corner. Although Affleck will no longer direct a Batman film, DC is still counting on Patty Jenkins and James Wan to diversify (and improve!) upcoming superhero films. Though Snyder is nothing if not consistent, his dark, stylized, heavy-on-atmosphere-and-sloppy-on-narrative take has only hurt DC's film empire. To give him a Batman film, at this stage, would be a choice in direct opposition to everything DC has done in recent months. Meanwhile, the reported frontrunner for the Batman position is Matt Reeves, who directed the Planet of the Apes prequels and Cloverfield.
That fact hasn't stopped thousands of fans from rallying behind Snyder on Change.org. The argument poised for a Snyder takeover by user Jennifer Huneycutt is as follows:
Pipe down, haters. Hear me out here. Snyder has a stellar record with comic book and graphic novel properties. Starting with 2006's 300, and followed by Watchmen in 2009, he has shown his skill with, and commitment to, being incredibly faithful to iconic source material. Many scenes in both films are panel-for-panel recreations of the graphic novel pages. He doesn't try to stick his two cents' worth in every movie, putting his own spin on things (they like to call it "artistic license" in the biz) just because he can. He knows how much these stories mean to their fans, and that goes a long way in my book. He has my respect for that.
Understandably, this push was met with considerable backlash once Twitter got a hold of it.
It's severely unlikely that WB or DC Entertainment would change its business decisions based on the pleas of a paltry 5,000 fans — that's the ultimate goal for the petition — but comic book fans have never been easily discouraged by the odds. Whatever DC decides to do with Batfleck, his movie will rake in money at the box office.
There is no exact date for DC's next Batman film.