Preview All 47 Oscar Nominees in This 3-Minute Supercut
Prepare yourself for the 2017 Academy Awards without staring at a screen for hours.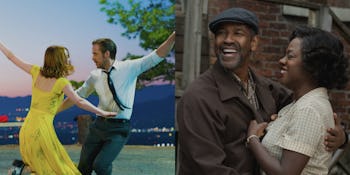 Collider/Indiewire
The Oscars have never been synonymous with subtlety, so backing a monstrous supercut of this year's nominations with Vivaldi's The Four Seasons feels pretty on-the-nose. Cineplex took the 47 films nominated for the 2017 Academy Awards and edited them together to create a dynamic — if aimless — supercut for your enjoyment.
Heavyweight films such as La La Land, Arrival, and Moonlight held prominent positions in the supercut, but smaller films in lesser recognized categories were also included as well. Everything from Allied (nominated for Best Costume Design) to 13th (Documentary Feature) and A Man Called Ove (Foreign Language Film) to Rogue One: A Star Wars Story (Sound Mixing) is featured, with some even pulling an opportune moment for a clip of dialogue here and there.
There's an expected lull — Vivaldi can only keep you in suspense for so long — and there are too many movies for anything really informative or overtly different to be done with a supercut such as this, because let's face it: 47 movies is a lot of movies.
To its credit, the supercut does serve as a nice reminder that some good things did come out of 2016. So, there's that.
The Academy Awards will be held on Sunday, February 26.